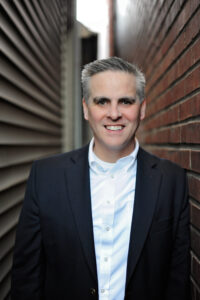 By Jacob Sahms
Jason F. Wright is a good guy. Whether you meet him in person at an event like I did a decade ago or are a stranger who encounters him somewhere traversing the continental United States, you have a similar experience. You find yourself meeting a new friend: a friend with compassion, empathy, and a goodness derived from his pursuit of Jesus Christ.
It's no wonder that Wright is the author of thirteen books, several of which have hit the New York Times bestseller list, inspiring readers to share their thoughts about Wright's impact online and to also get involved with projects stemming from the narratives Wright shares. That list includes Christmas Jars, a 2005 novel that is the inspiration for the November 4 Fathom Event film of the same name.
Wright, who periodically writes for Deseret News, Fox News, and the Northern Virginia Daily, has been featured in The Washington Times, The Chicago Tribune, and Forbes. But more than a journalist, Wright is someone attempting to share his stories of hope in the way that others might be inspired and maybe even change. Those are lessons he's learned along the way, but they all started at home.
"My parents are both joyful people," Wright explained. "My father passed away when I was a teenager but he made a huge impact. My mother is very social, joyful person. We weren't allowed to mope for very long as kids. My three older siblings and I, whether we were falling down and getting scrapes, not getting the part in the school play – we were given a few minutes to put on the bandaid, but then we were to move forward and find the good."
The author went on to explain that his wife, Kodi, is another strong influence on his mindset, as someone who is naturally optimistic. And then there's the matter of his faith, again yearned at the feet of his father.
"My dad was very much a disciple of Christ. That's how he lived. Growing up in that environment for sixteen years before he died, shaped who I would become," continued Wright. "Kodi reminds me that if we follow God, it'll be okay. We put our trust in him. My core faith that Christ is real, and that he lives, knows, and loves me, and loves equally regardless of whether we attend a church on Sunday or not. He wants us to be better, to improve, and become like him."
"The Lord has been very good to me as I've pursued turning my hobbies into a career. I feel like the least I can do is try to reflect that."
While Christmas Jars was the second of Wright's books, it's the one that has spawned a movement, and will result in Wright's first film in less than a month. The story about a young reporter who wants to break her first case, and the way a decades-old tradition of generosity impacts the present day lives of a small town, readily slides into the pattern of Christmas stories on bookstore shelves. It's the kind of wholesome material Wright knows his readers expect of him, and until this year, it's been stuck in developmental limbo.
"It was frozen molasses for thirteen years, and not for lack of effort from the team," remembered Wright. "The timing was never right, and then a few new people came on board. The floodgates opened about a year to a year and a half ago when new partners said, 'Let's get this thing over the finish line.' The further the original team drifted from the book in terms of the screenplay, the less interest we found, the more that the money dried up. But the new people came on board and asked, 'How do we get back to the book, to Hope, to her inner struggle? The film's going to feel unusual because there's not a prototypical antagonist bad guy.' When they went to producing and casting the film, they had kind of come home, back to the core of the simple story. I think people will be relieved that they stuck to the story."
The five-page short story in 2004 called "Christmas Jars & Restoration" hinged on the name of the main family's company and the need for the restoration of souls. By the time of its publication, it had become a 120-page book; fifteen years later, it's a ninety-minute movie. But the story actually began with a little family experiment.
"We filled a jar for eight weeks between October and Christmas Eve 2004," shared the author and father. "We gave it away, and I don't think we even called it a Christmas Jar then. We filled it up, gave it away, knocked on the door, ran and jumped into the moving car and sped away, hoping our eighty dollars would make a difference. The money is secondary, but it's more that [the recipients] are seen and loved and cared about. Our story was clearly not dramatic or interesting enough to make a novel, but the question of what a family could do with a jar stuck with me. I wasn't thinking about books or movies or having these conversations fifteen years later, but I wondered, could I create something that someone would go, that's a cool idea, and fill up a jar to give it away?"
Twenty literary agents rejected Wright in 2005 and laughed at him. Considering a trip to Kinkos to print out the manuscript to send directly to the publishers himself, Wright heard back from Shadow Mountain, who believed that the story had the potential to start a movement. "Don't get me wrong: I want to sell books, because I want to write, but the fact that they thought there was potential to stay with people was what was so exciting. That people might read the book and do something about it. That conversation was in April 2005 and by September it was on shelves. The publishing process never moves that quickly!"
It didn't take long before people were reporting back to Wright about the times they had given, or received, a Christmas Jar. [There's even a school that has increased its Christmas Jar giving to $26,000 annually over the last few years, as the high schoolers donated loose change to jars in their classroom.] Wright's most talked about story involved a five-year-old boy named Cameron who was celebrating Christmas in his hospital bed, on hospice in his own living room. When two large size pickle jars were left on his family's porch, with a note urging him to do something fun for himself, Cameron instead chose to shop for toys for the hospital playroom where he'd received care. Cameron knew he'd be okay and thought those other kids needed the pick-me-up instead.
While Wright knows that his story is short enough, and sweet enough, to be a good, simple read, he knows that the story has God-inspired elements that have made it catch fire.
"Our Father in heaven would like more of that material in the world. When we read good uplifting comment, we see that. There's something that feels different when we go to a Christian movie that's good, sure, they're entertaining, they give you a few laughs and make a few dollars, but you come out feeling different. Heaven has a hand in it."
Now, Wright's Godly story will be a Godly movie. His enthusiasm refuses to wane, even as a flight snafu interrupts our call momentarily, with news that he may be waylaid. He's been fanning the flame of the Christmas Jars movement for years, even more than selling books.
"How many people are going to be introduced to the movement who don't even know there's a book?" Wright asks, excitedly. "As long as they go home and do something, it will be worth it. We study the Scripture, the Gospel in particular, because Christ expects us to do something about what we learned from his life and teaching. He wants you to change. I hope that's what the movie does. It's not enough to sit here and feel good for a minute. Go do something. Put a jar on your counter. Give it away."
"People ask how to do it and who to give it to. They say they're uncomfortable giving it away or that they don't collect change because they use their credit cards. I'm like do it your own way! Go to the bank and get a roll of quarters! The novel is meant to inspire you in the best way that works for your family. Do something."
"If it's fifteen dollars, it's enough. It's not about the money. If you see the movie Nov. 4th and think I'm going to wait until next year, you're making a mistake. Start now. Fifteen dollars to the right family and the right circumstance can be life-changing. The right time to start is when you hear about it."
Go see Christmas Jars on November 4th, and then join the movement.