by Edwin L. Carpenter – Associate Editor, The Dove Foundation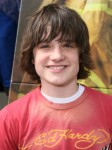 Josh Hutcherson, the young 14-year-old actor who has  been busy filming several movies, was in Chicago recently, doing the press junket for his new release, "Bridge To Terabithia." The film is an adventurous movie with some themes of substance, and it's Dove approved. Josh spoke with us for several minutes regarding the film and some of his other work.
Dove asked Josh how he got started in the business. "I used to live in Nashville, Tennessee, and there are not a lot of opportunities for acting in Tennessee,"  he laughed. "I kept bugging my parents and we actually looked in the yellow pages and found an agent. They were like, 'Ok, it looks like we're moving!' So I went to California and got some parts and I've been working ever since."
In fact, Josh has quite a few credits behind him including TV roles in "Becoming Glen", "House Blend", an "ER" episode, and voiceover work in "The Polar Express." His credits in live-action films include "Zathura: A Space Adventure" and "RV" with Robin Williams, and "Bridge To Terabithia" as well as the forthcoming "Firehouse Dog."
Dove asked Josh what it was like working with AnnaSophia Robb. "We became great friends and I think it shows in the film," he replied. "We filmed in New Zealand and we took long rides in the country during weekends and hung out a lot. We laughed a lot and got along great. The classroom scenes were fun too. AnnaSophia and I were the only students from America. The rest of the class were New Zealanders." This is a credit to the actors, who nailed the American dialect in their role as students.
We asked if there were any behind the scenes incidents he could remember. "Every day was an adventure," he said. "We had a great crew and we were laughing all the time and had a lot of fun."
We asked him about his favorite scene in "Bridge To Terabithia" and it turns out that his favorite was also the most challenging. "I like the scenes when we fight the creatures in the forest," he said. "It had a lot of action in it. It was hard because you really had to use your imagination. They weren't really there so it was fun. In some ways, it wasn't difficult because I have a pretty good imagination and now I have a bit of experience in the business and you learn some things, but it was still a bit challenging. I like it too because I think it's something that the boys who watch the film will like, with the action in it and everything."
We mentioned the sad scene in the film in which a character dies. "The emotional scenes can be a challenge. There was some sadness but you use your emotions and what helped me was asking myself how I would really feel and act if I were this character. I put myself in the character's role and imagined the character's feelings and that really helped me to do it."
We couldn't resist and asked Josh what his favorite scene is in the upcoming "Firehouse Dog." It took him a moment to recall because the movie had been filmed over a year ago in the fall, but it came back to him. "The character that Bill Nunn plays, Joe, is in the kitchen and making some stew. He's the cook and he's throwing all kinds of stuff in the pot–red stuff, horse radish, whatever, and he keeps throwing stuff in the pot. I think that's a funny scene. He's a funny guy."
Josh elaborated on the scene in which his character, Shane, is trapped in a fire in "Firehouse Dog." "I had to take lessons in using an ax for that scene," he said. "I worked hard to chop away at the door." "No special effects for that scene?" we asked with a laugh. "No," he laughed too. "I had to really work at that and it was a tough scene to do because of the smoke. I actually got a bit congested and coughed for awhile when that scene was finished."
We wanted to know what it was like working with Robin Williams in the movie "RV" (another Dove approved film). "He had us laughing all the time," he replied. "The thing about Robin is that his humor is up to date. He would hear something on the news and come in and joke about it and have us all laughing."
"So he doesn't rely on old material?" we asked. "No, not at all," Josh laughed.
Josh has made several family films and the next one which will be released, following "Firehouse Dog," is "Journey 3-D." "It won't be out until 2008," Josh said. "It's really a Jules Verne story and is based on 'Journey to the Center of the Earth.' It has a lot of action and excitement in it. We travel down to the earth's core and we have to escape from flowing lava. It's really good. It's a cliffhanger kind of story."
In conclusion, we asked Josh what had surprised him about being an actor and also what was the most rewarding aspects of it. "I have been surprised by how hard the work can be," he replied. "When you get into it you don't really realize it but there are some long days on the set and it can be a lot of hard work. But the rewarding side is that I love to travel and I have already traveled a lot and seen a lot of the world."
The young man from Tennessee is living his dream. Not bad for a fourteen-year-old boy.
---
Click here to read Dove's review of "Firehouse Dog"