by Edwin L. Carpenter
The Dove Foundation recently spoke with Kirk Cameron about his new film, Connect, airing for two additional nights on March 20 and 24.  http://connectmovie.com/ Enjoy the Dove conversation!
Dove: Hello Kirk, it's early in the morning for you. You must be tired and sleepy.
Kirk: I have six kids. I'm sleepy all the time!
Dove: What was the impetus for the Connect film?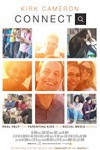 Kirk: "Well, we have six kids and five of them are teenagers, one is 21. They all live at the house. Several years ago we decided to get all of our kids smartphones. As part of soccer and basketball teams, it became clear they needed to be able to text and to get onto some group chats, through certain social media platforms. That decision plunged us into the world of social media and the digital flood that is carrying so many children away and separating them from their parents.
"So we decided we needed to wrap our minds and our arms around the whole issue and instead of defensive parenting we wanted to be on the offense. I started talking to experts and reading and researching and getting all the information that I could to help parents stay connected with their kids in this social media world—the result of that learning is called Connect.
Dove: What do you hope audiences will take away from the movie?
Kirk: There are a lot of takeaways. We interview experts –from neuroscientists, brain surgeons, to family counselors to pastors, and technology experts, and what I really want parents to get onto the offense. There is a monster that is running away with our children—if you just look at the statistics and read the articles that are now coming out—you see that that's not an exaggeration."
Even many social platform leaders are stating there is a problem.
"Fifty percent of all kids tell you that they feel addicted to their social media. Ninety percent of boys and sixty percent of girls have been exposed to hard-core pornography by the time they're eighteen. The first time that they see it is on the average about eight years old–and anxiety, depression and suicide among young people is skyrocketing.  The developers of the social media platforms are acknowledging that it is due largely to the effects of social media– and too much technology for our kids. We're handing them something akin to the keys to a five-thousand-pound automobile and saying, 'Here, have fun.' One top addiction expert said handing your child a smartphone without any controls on it is as addictive as handing them a gram of cocaine. Just look at what your kids are doing. Are you concerned about what you see with your kid, how about how much time they are spending, about who they're talking to?
Social media shapes the way kids feel about themselves, God, their friends and their family
"We heard some great advice. Parents should gradually teach the kids how to use the features on their phone. Parents don't have to give them the internet, and other social media platforms. There are lockdown options. They need to be taught and trained and coached and mentored.
Kirk's website features several helpful resources at www.connectmovie.com  This film will help families to connect in good and biblical ways.