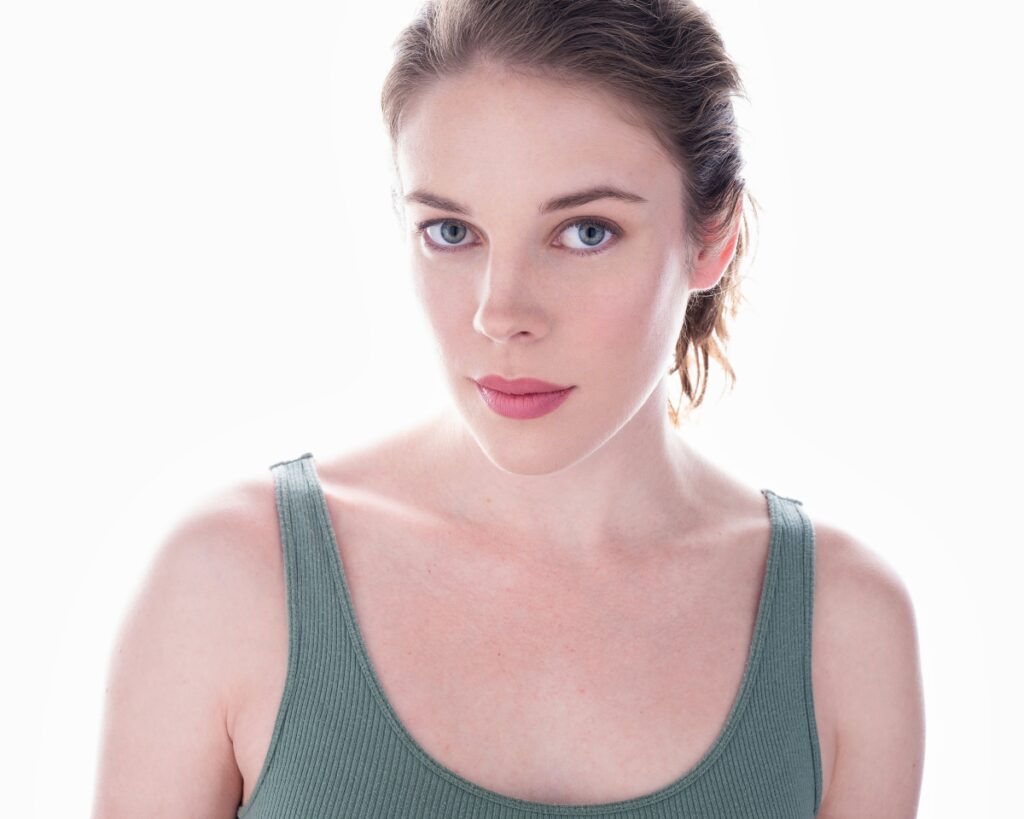 By Jacob Sahms
Over thirty-three acres of sprawling gardens, Bristol, Rhode Island's Blithewold is known for its three-hundred species of trees and the historic mansion of Augustus Van Wickle, overlooking Narragansett Bay. But twenty years ago, at a Shakespearean performance, the sword fight that occurred on stage captured the attention of one young woman and drew her into conversation with the actors who had fenced back and forth across the stage.
Charlotte Kinder already had an inclination toward acting, thanks to parents who met through an after work theater, bringing to life classical works like Gilbert & Sullivan's Pirates of Penzance. Kinder had seen the joy her parents experienced in those plays, thanks to video recordings she watched with her family in their living room later. Acting was always supported at home, even though her parents never knew that their children would end up professionally pursuing the arts, through plays, operas, and even animation. But Kinder's mother thought her daughter needed a fall-back option, so Kinder's time in Massachusetts' Wheaton College was split between the theater and the education department, where her love for children grew.
After college, Kinder remembers a show that left her father in tears, acknowledging that acting was what she was called to do. But grad school applications weren't immediately accepted, and for two years she worked outside of the theater while finding places to express her acting. She kept showing up in the theaters around New England, and one day, she saw Midsummer Night's Dream with puppets created in Bristol, England, adding oxygen to her burning passion for acting. And when the opportunity presented itself, she auditioned at the Bristol Old Vic Theatre School, the same school where Daniel-Day Lewis, Jeremy Irons, Patrick Stewart, and Cary Grant once studied. Kim Durham, the head of International Course, kindly invited Kinder to tell her story and show her skills, and suddenly, the dream had life again.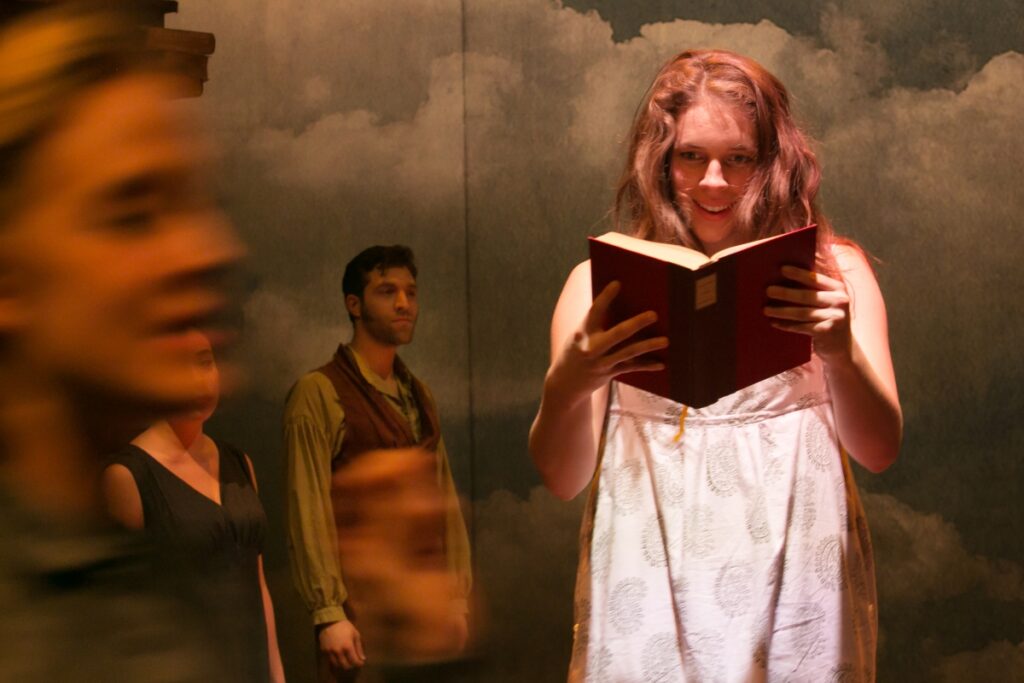 "Kim made me feel like a person who mattered," Kinder shared from her Warwick, RI, home. "It wasn't about breaking you down or getting you to throw your guts on the floor but about finding yourself. The school was all about taking acting into your body, not just studying but dancing, singing, and vocal classes. It wasn't just one method but creating a whole tool box."
A year later, Kinder was back in Rhode Island, and three days later, her longtime boyfriend Ben proposed. See, this is a love story, about people, about acting, about the way that God ordained moments arrive sometimes when we least expect it. Ben was her first boyfriend, but after the eighth grade formal, Kinder dumped him in high school, and irregularly, unexpectedly, they remained friends for ten years. When she moved to England, their communication increased, and the distance somehow deepened who they were meant to be.
So the two friends married and now they're expecting a baby girl, even as Kinder recovers from a broken ankle which disrupted her acting plans (she was replaced in a play that she'd been cast in) but showed her the way that the little moments still have great meaning. In fact, the opportunities to see God move aren't just on stage or on the screen, because Kinder can't be contained by a single adjective or role. God's providence in the times in between acting opportunities created a moment when Kinder looked for something else, something relational and real to invest her time in, and she found Dorcas International Institute in Providence, RI.
In 2019, Dorcas helped 450 immigrants, and 970 refugees. Five of them were the family of a woman from the Congo who had persevered in immigrating in the midst of great difficulty. Now, Kinder is paired with her as a mentor, confidant, and partner in learning how to navigate American conveniences like Stop & Shop Grocery stores or the local branch of the DMV. Unlike moments where she's playing a part on stage, Kinder found that growing in relationship with her new friend showed her a side of reality that informs her life, and change her heart for those who are underrepresented or even ignored.
"I was blessed to not have to be a waitress to support myself because of Ben's work as an engineer," Kinder remembered. "So to serve, I reached out to Dorcas. Initially, I was uncomfortable and nervous because when I visit, I'm the minority. I don't speak Swahili. But to hear her story, to see how she immigrated to the U.S. because she saw what her future as a woman in the Congo looked like and saw it wasn't what she wanted, I realize that those are stories I want to tell one day."
"I'm leaning into what God puts on my plate, exploring what God is calling me to do on stage and off of it."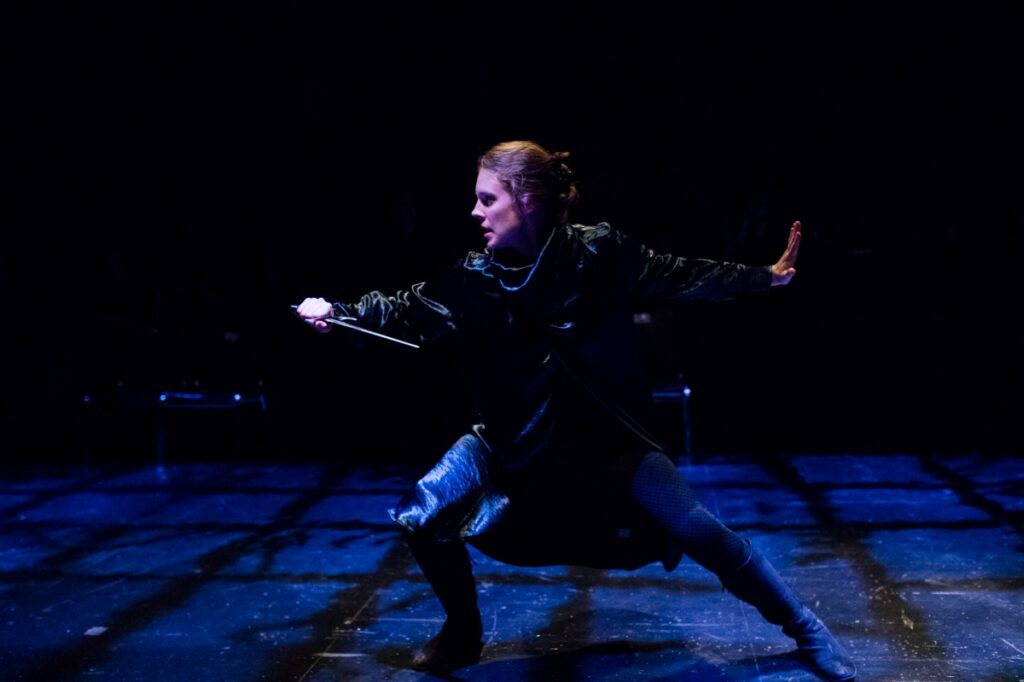 There's also that moment that's off-stage but on-screen that has made a difference in Kinder's life right now. Academy Award-winning director Greta Gerwig's remake of Little Women, Louisa May Alcott's renowned story of New England sisters who argue, support, and grow into their own place in the world, came to Boston, MA, for filming. The casting company reached out to the Shakespearean company that Kinder had just wrapped a theatrical performance for, searching for some actresses to play roles in a play within the film.
And Kinder, once turned aside for graduate work in acting like the film's renowned director was once rejected from MFA programs, traveled up I-95 to audition. After reciting the two lines she'd been given for the read, Kinder was asked if she knew any more of the play, and she delivered a complete monologue [from Viola in 12th Night] which she was working on for the theater. Suddenly, the journey from Bristol, RI, to Bristol, UK, had brought her to where she dreamed she'd one day be.
"Walking onto the set, it was breathtaking," Kinder recalled. "It was the first time on a movie set of that size and pedigree. It was overwhelming how many people were there, and yet they were all incredibly accommodating. I was sent to sit with Greta behind the monitor before our scene would be filmed, and I was able to see the way she saw the film."
Gerwig called for take after take of a shot that Kinder says was solely reflecting Jo's (Saoirse Ronan) face as she stares after Professor Bhaer (Louis Garrel) as he leaves the play. Kinder watched as Gerwig and her Lady Bird star Ronan discussed different elements aimed at recording the right shot. And then it was Kinder's moment, having watched, having run her own lines during hair and makeup, having seen how Gerwig focused on the moments that expressed the opportunities for female identity and Christian faith to be expressed.
"Even in my scene [Act 3, Scene 1] , it's clear that Greta chose that part of Twelfth Night on purpose, where Viola is pretending to be a man," shared Kinder. "She chose this moment to highlight female identity discussion, as Viola says, 'I am not what I am.'"
Kinder knows it was an amazing opportunity, bringing together several of her gifts – but not her fencing or singing abilities, yet – to help tell a story she and her sister loved as children, the 1994 version of Little Women. They watched as Jo (Winona Ryder) learned from Marmee (Susan Sarandon), especially those lessons about not letting the sun go down on their anger, taken straight from the Bible.
"Everything falls into place," Kinder says, marveling at the ways that God worked through the ups and downs of her life and career. "God has carefully woven my path, and it's incredible. At one point after college, I was trying to discern whether the only way to serve God was as an actor. I've thought about what it means if I act less, recognizing that my value isn't in screen or stage time but in the Lord. And now, these opportunities are here."
Right now, Charlotte Kinder is on-screen around the United States. Soon, she'll be showing her daughter footage of her mom's first big production role. But it's not the only lesson Kinder has to hand down, because in all the myriad pieces that don't look like they all fit snuggly now, she can see the movement of God drawing her to the place where she needs to be. Alongside her acting in a variety of ways and her ministry through Dorcas, she's directing her church's VBS and serving as an elder! One day, she'll inspire someone to tell a story, to share their story. Maybe it'll be after playing scenes from Little Women; maybe it'll be after fencing on stage in the midst of a Shakespearean play.
No matter what, Charlotte Kinder is ready for what comes next.