Dove had the honor and pleasure of interviewing Executive Producer Paul Blavin and Director Scott Haze about the exciting release of their documentary about multi-millionaire, humanitarian Charles Mulli. We are still struck by the stories within the story, and how this movie is just the beginning.
Don't miss your chance to see Mully. Click Here to Get Tickets to this week's limited release.
DF: How did you discover this story?
SH: It was a weird moment. My partner John Bardis knew a man in Africa who was really making a difference in the world. John handed me the book Father to the Fatherless by Paul Boge and asked me if I wanted to go to Africa to make a movie. I read the book and immediately told him I'd do it.
DF: In making the film, I imagine there was so much to tell and it must have been hard to make the trade-offs in editing. What did you have to leave behind?
SH: Oh, there was so much. We actually built a village. Charles turned his home and his property into Mullywood! The hardest scene I had to cut out was a witch doctor scene, which was a narration of one of the characters lives. It was so real.
DF: You worked with the actual kids from Mully Children's Family. How was it working with all those kids?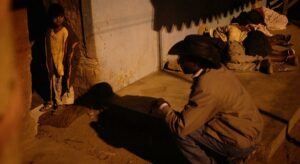 SH: They were excited but they were nervous. They didn't know what we were doing! The funniest thing was when I asked Charles to play himself in the movie. I auditioned everyone at MCF, but then I ended up asking him to do it. He helped me produce the whole movie, it was great!
And the kids helped too. There was only 4 of us on the crew! I taught the kids filmmaking because I needed help!
DF: Did you have a plan to tell this story from the beginning?
SH: The movie unfolded the way Charles' adventures have for the past 28 years.  We set out to make the movie and after we made it, we took a long time to edit the film. Charles recorded his life; he gave me 400 hours of his home videotapes. But in the end, it only took 2 years to complete the movie, which for a documentary is fairly quick.
DF: Did God show up pretty big during the production?
Yes, there are so many stories. God was all over the production! I almost got arrested multiple times. Charles gave me 400 hours of his precious home videotapes, and at the airport, they wanted us to put the tapes through the security scanners. I had his life in my hands and they wanted to x-ray them and I said "no way." We had an entire plane to America detained. They were going to arrest me, there was no way I was going to let them damage those tapes.
DF: What do you want people to talk about?
PB: When it comes to movies and stories that are out there being told today, this story provides a model on so many important fronts. Charles inspires people. The first time we watched the movie people sobbed because they are so moved. It's a model that can change the world. The sustainability he's creating can change the world.
We're dedicated to not only shining a bright light on the film but then once that seed is planted in your heart, we want to give you an opportunity that will delight you by getting engaged.
Mully Children's Family (MCF), is now close to 3000 children. We'd love to connect them to people in the developed world that will connect emotionally, support them spiritually, financially, etc. There's an opportunity to show people how to become 100% self self-sustaining organic vegetable farming, dairy farming and poultry farming. These are not dreams – they're happening right now. MCF can support 3000 kids through their own labor – a lot of us can learn from that.
Charles is a visionary. He has a vision for Mully International University, to bring students from around the world to see what he has developed so they can learn it and bring the knowledge and skills back home. These are actual practices that will truly release people from poverty.
DF: How can people get involved?
There are many ways to get involved, whether your heart is in sustainability, clean energy, micro-economies, water uses, education, adoption, or just loving on future leaders – these children will be raised up to change the future. Start by just coming to see the film, then contact MCF through any of the websites connected to the film.