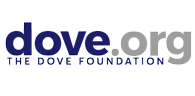 Hello Filmmakers, Distributors and Friends,
Greetings from The Dove Foundation and dove.org. Many of you have known us for a long time, as a solid-rock organization providing authoritative perspective and information about the latest movies released in theater, on DVD and streaming. Dove continues to be the gatekeeper of trusted content for studios, broadcasters, and millions of families who use the Dove Approved seal to choose films for their values-driven choices.
I'm honored to take the helm of Dove as Dick Rolfe, former CEO and one of the five founders of this important organization, has retired. With my background in brand strategy and creative management, I'm working to set an exciting new course for this important brand.
WHAT WE DO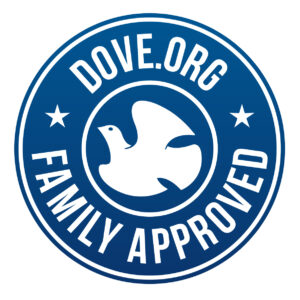 We offer our seal of approval, and guidance for your acquisition planning, content refinement and marketing. Along with that, we have a direct line to a demanding values-oriented audience. You know the importance of this audience and we're the long-trusted resource, with a fresh new contemporary voice.
There's a powerful force growing among today's families. They're dialed in to the power of the influence streaming through their screens. Families want trusted thought-leadership and intelligent discussion. These families know they can trust Dove.
Through continued success with our partners at Cinedigm, the Dove Channel and dove.org is growing into the largest faith and family set of networks in the world, and is now available to 60+ million potential customers. This is a powerful resource for families to relax and enjoy all – and only – Dove Approved titles of all genres and tastes.

Our millions of Dove families around the nation and world want to enjoy all genres, and make informed choices when they buy a ticket at the box office, or hit "play" on their devices. They don't need to be talked at, they want to be part of the conversation. And they'll decide what's best for their family.
The Dove difference is that we are rooted in Christian principles. We are the trusted curator and aggregator. We also know that our Dove families want to actively enjoy entertainment, have a positive influence on culture, and they know the power of voting with their wallet.
Where We're Going
The Dove Approval starts from a faith perspective; it's a given. So we're taking three major steps to improve the clarity of our seals and allowing us to engage in a richer dialogue with our audience.

1. Three New Seals. Intuitive and Simple. 
The 18+ seal is reserved for films that have an overt faith message, but have other factors that kick the film out of our family-approved standards.
2. New Content Grid
We're introducing an expanded content ratings grid.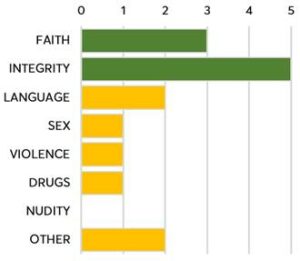 In order to provide users with a quick glance on the Dove POV of a film, we're adding ratings for faith and integrity.
This allows us to engage in the dialogue about more films, and equip ourselves to be more influential in the cultural conversation.
3. New Dove Review Writers
Our review team has grown to include fantastic new talent to write the Dove point of view for a demanding and high-standards audience. Our writers are a diverse new group of journalists, film experts, theologians, and teachers.
We need your feedback, your ideas and we'd love your continued promotional investment in our media platforms! Check out our new self-serve banner opportunities to reach our 250,000+ super-high-quality visitors.
Remember too, you can submit your screenplays, acquisition plans and films, and I'll help guide it's success. Or call me directly to discuss your work.
I'm grateful for the input I've received from many of you throughout my first few months at Dove. My door is always open (and I'll be knocking on yours soon). If you do want to come over, please note we've moved to Oregon.
Highest Regards,
Suzy Sammons, CEO
The Dove Foundation
[email protected]
5200 SW Meadows Rd., Suite 150
Lake Oswego OR 97035
503-726-5210