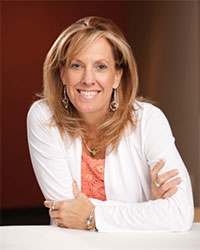 GRAND RAPIDS, Mich., Dec. 8, 2016 /PRNewswire/ — The Board of Directors for The Dove Foundation has announced a successor to the co-founder and CEO of the 25-year-old nonprofit entertainment industry organization. Marketing veteran Suzy Sammons has been selected as the new CEO and will succeed Dick Rolfe, who will retire at the end of the year. According to the Board, Sammons will usher in a new perspective on the role of Dove in today's ever-changing and complex media environment.
The Dove Foundation was established in 1991 by a group of fathers who were seeking a way to provide their families with a trustworthy tool to readily identify family-friendly entertainment and to gain more insight into the content of new film releases. Dick Rolfe, the current CEO and co-founder, has grown the organization through trusted relationships across executive levels at major studios as well as the growing universe of independent filmmakers. Under Rolfe's leadership, the Dove Seal has become a trustworthy symbol of family-friendly and faith-friendly entertainment, and the organization has partnered with retailers and online sites to provide reviews and endorsements for Dove-Approved content. Dove.org has a solid audience of conservative consumers who value the service that makes it possible to be more informed about entertainment choices for their families. Dick Rolfe will continue with the honorary role of Chairman Emeritus.
Sammons was selected by the Board because of her extensive background in marketing and content strategies as well as her experience in understanding today's media consumption trends. In a strategic alliance established last year with Cinedigm, Dove has expanded its reach through an OTT network and the recently announced linear channel featuring Dove-approved movies and other family-oriented content.
Bill Sondheim, President of Cinedigm Entertainment Group and creator of The Dove Channel subscription VOD service added; "I have had the honor of knowing Dick Rolfe for almost 25 years and have watched him build a meaningful brand and critical service that helps parents navigate the increasingly complex landscape of movies, TV shows and filmed entertainment. That objective and credible voice has become a vital tool in evaluating family appropriateness, and we all owe him a debt of gratitude. With the appointment of Suzy Sammons, we will get to see The Dove Foundation thrive and evolve in this rapidly changing entertainment environment driven by technology and innovation. The Dove Channel is one of the important and tangible aspects of this transformation for The Dove Foundation and Suzy's extensive background in consumer trends, brand building and the use of social media to build lasting dynamic relations with consumers is perfectly timed. We look forward to continuing the amazing authenticity that Dick has created with Suzy's innovative consumer skills taking us all to an exciting new horizon."
"Suzy has a long-held vision for Dove that has inspired us to imagine a greater impact for consumers who want a better selection of fun, high-quality and family-friendly entertainment," said Dar VanderArk, Dove Board Chairman. "She is passionate about great content for our family audience, and she has valuable experience in developing and marketing it."
Sammons deeply understands the influence of media and entertainment, having spent her career creating that influence. She believes in the strength of Dove and envisions an important shift in its presence in the world. "I'm excited to help guide this important organization into a valuable role for a wider audience of today's families," says Sammons. In addition to Dove's solid collection of fun and inspiring family fare, she intends to develop original content, lively and positive and still appealing to a savvy entertainment audience. "Cinedigm is a powerful partner, and I look forward to the next phase of growth with their development strength," said Sammons in a statement. "Christian or family-friendly qualities are not exclusive of challenging, sophisticated, and exciting work. And inversely, exciting doesn't have to mean trashy or gory. We'd like to provide a valuable resource to the millions of families and individuals who want to be inspired by life's possibilities, fun adventures, and great stories."
Ms. Sammons has spent her 25-year career at the country's top advertising creative agencies, serving in leadership roles across many categories. Most recently she led the award-winning campaign by 180LA, also with long stints at agency greats like BBDO Detroit, Saatchi & Saatchi LA and leading the Chicago office of TBWA\Chiat\Day for 12 years. Today she also serves Borders Perrin Norrander, one of the pioneering firms in Portland, as Managing Director.
Suzy and Steve Sammons live in Lake Oswego, Oregon, and Steve serves as VP of Advancement and Brand Marketing for Corban University in Salem. They have six children, and every one of them loves great entertainment!