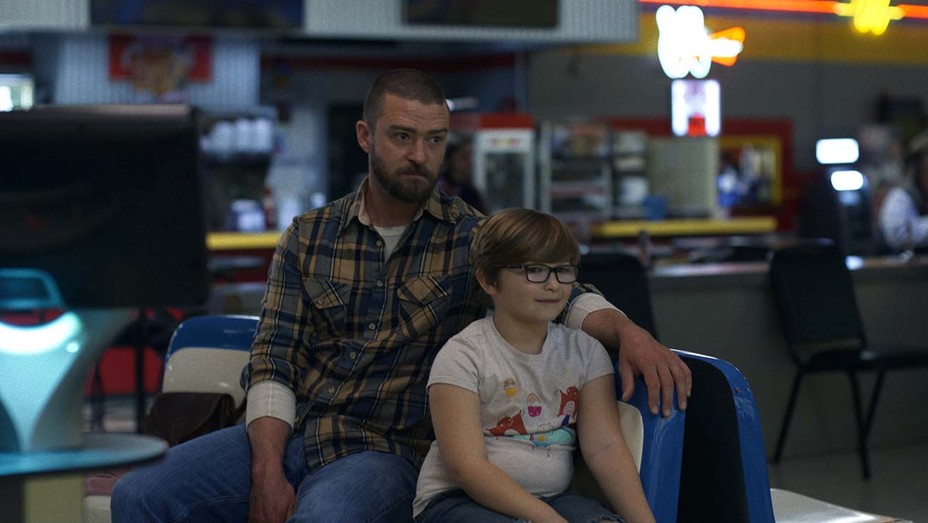 By Jacob Sahms
Eddie Palmer (Justin Timberlake) had it all as a hotshot football player, but injuries led him to the dark road of painkillers, alcohol, and bad decisions. Twelve years after committing a crime that only he paid for, Palmer returns to his hometown, to live with his grandmother (June Squibb). She's taken in Sam (Ryder Allen), the little boy from the trailer next door, whose mother seems incapable of caring for him due to her own addictions and poor choices. Palmer is no father figure, but he can't ignore the charismatic pull of the boy's charm.
Some of the characteristics of the film are ones that you've seen before, but longtime actor-turned-director Fisher Stevens has done something with the pieces provided by Cheryl Guerriero's 2016 Black Listed script that provides more than the "can the ex-con's life actually be reclaimed). The film tackles masculinity and bullying in a way that transcends the football-influenced levels of machismo in Palmer's hometown to ask the audience how their own sense of themselves impacts the way they treat others.
Palmer gets a job as the school janitor attached to the church where his grandmother and Sam attend – and he now does too because Grandma's word is law! The church dynamic shows up as a meaningful influence, with a sweet scene like Sam's reminder that even Grandma needs to forgive and a playground scene where the pastor tries to imply Palmer is mistreating Sam, and Sam's internal radar shows us more of a creepiness in the pastor than anything else. Together, the church community gets some things right, but also gets something wrong – which is about right for church, right?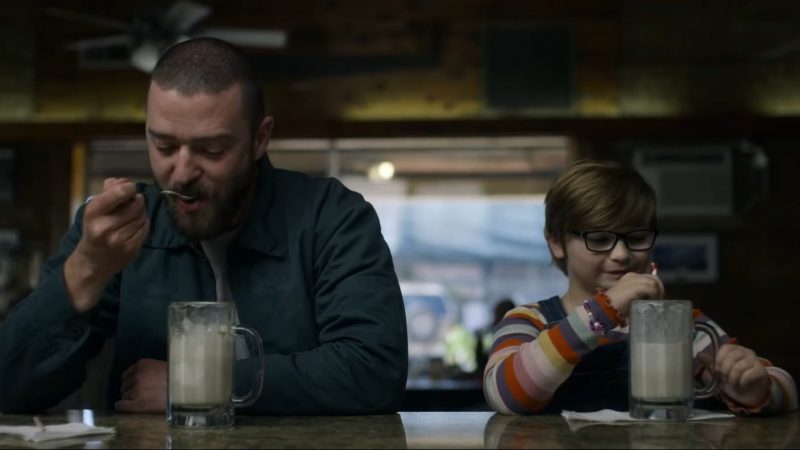 But the real story to be explored here is Palmer's masculinity. The audience knows Palmer's father's death has impacted him negatively, that his lack of a role model and anchor led him to some of the choices he made. Forced into a position of decision-making for himself and for Sam, Palmer has to figure out what his moral compass is. Seriously, who sets the path if there are no role models, no men to show Palmer how to be a real man? His contemporaries are no help…
Timberlake and Allen have great chemistry, with the singer/actor/entertainer providing a spectrum of emotions and vision for the audience to see Palmer's life and community through. The score, the simple, earthy scenery, the slow-burning movement toward real violence boiling over… It's all necessary in helping us feel what it means to feel helpless, stuck, and cornered by life.
Palmer watches Sam's lack of role models from across the yard, but he can't accept for himself that Sam likes princesses, wants to know what lipstick feels like, and is willing to play with his best friend at her tea parties. [This is largely due to Palmer's inability to accept himself. How can you love someone else when you can't love yourself?] The story isn't about sexuality because Sam is a kid, but it does ask the audience to consider who is ostracized in our communities because they don't act just the way we expect them to per our unwritten rules.
The bullying that takes place in mistreatment of Sam by children is one thing; the bullying that occurs against Sam by adults is … incredibly spot-on and cruel. Somehow, Palmer's masculinity isn't the biggest threat to Sam, but the permissiveness of Palmer toward friends who hold cruel, violent tendencies is. Treatment of children, and women, and minorities… Palmer shows that all of our 'isms' are tied up together, that we can't act like we can dip our toe into a pool of unrighteousness and not get wet. Palmer himself figures that out, but the sweetness of Sam, Grandma, and even some good church people leads him back toward a place where he might forgive himself – and maybe forgive a few other people, too.
Palmer is only appropriate for mature audiences, and contains scenes of sexuality, pervasive language, and some violence.