by Edwin L. Carpenter, Editor – The Dove Foundation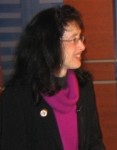 "Patty Mondore Sings Her Heart Out On Incredible Inspirational DVD", by Edwin L. Carpenter, Editor, The Dove Foundation
River-lations is an inspirational DVD which includes beautifully filmed nature scenes and the sweet voice of Patty Mondore, who lives in New York with her husband Robert. They founded Gold-Mountain.com which is both their company name and a website which features their DVDs, CDs, and the books that Patty has written. River-lations is by far the best nature and song DVD I have ever viewed and listened to. It is well made and sprinkled with dashes of humor. The humorous interludes star a rascally chipmunk. Patty spoke with The Dove Foundation and was elated regarding our rating of her work in which we awarded her DVD five Doves, our highest quality rating.
Patty: "We're thrilled, we're just delighted. As you can tell we're just giddy over the whole thing. It's a lot of fun."
Dove: "Patty, tell us about your background and how you got started singing."
Patty: "I don't know if you've heard of Houghton College. We used to think we were the sister college to Wheaton but Wheaton never wanted to have much to do with us. We're a Christian college in upstate New York. I grew up in a Christian home most of my life and I ended up going to Houghton College. I majored in, and received my degree in music. I also got a masters degree in music, but what's interesting is I had very little voice training because I was a trumpet major and music education major. My second year at Houghton I really re-dedicated my life to the Lord–I had this amazing experience with the Lord.
"It was not my parent's faith anymore, it was my own. Everything kind of changed at that point. I started writing songs. Songs became an expression of my faith. Every time God showed me something a song would pop out. As hard as I tried I couldn't get any lyrics out of the trumpet! I had to sort of start singing and even without training I kept writing all these songs. I noticed nobody famous wanted to sing them so I had to start singing too. From that point on I've done some concerts in churches and coffee houses, a couple of singing missions trips over to Austria. 
There is a castle in the DVD and Patty wanted to give us some background about it and how it played a role in her destiny.
Patty: "One of the places I sang was in that castle. My parents bought a camp up in the Thousand Islands. It's about an hour and a half north. It's on the border of Canada and upstate New York. We bought a camp up there and realized we were going to be up there for the weekends so we needed to find a church. We read this little ad in the paper that there was a castle, on an island, that was having church services. We figured it was a cult and that we were going to go in there and they would never find our bodies," she laughed. "It turns out that the people who own the castle were retired evangelists and were Moody Bible College graduates. George Beverly Shea sang in their wedding. So they needed a piano player one day and I sacrificially rose to the occasion and I started singing and playing there for probably twenty years."
The older couple decided eventually to put the castle on the market and Patty joked that they needed to let potential buyers know that it came with a singer and piano player! Her husband began filming everywhere in the castle including secret passageways. His concern was that once the castle sold the Christian history behind it would be forgotten so he chose to film it as sort of a legacy. He and Patty worked on the results and made a documentary of the castle and made it available on DVD. They began to pick up some exposure in the area for having made the DVD. "It was what put us on the map," said Patty. Their wish to preserve the sixty years history of the evangelism and services at the castle was fulfilled with this first DVD they produced.
Dove: "So this first DVD launched your journey into the world of making Christian inspirational DVDs?"
Patty: "The music videos have all been very explicitly Christian in the lyrics and all, but we kind of earned the credibility with the castle DVD. So we had a ready market and the stores would take our music DVDs in there. So, they've done pretty well but we both have full-time jobs to support our business. The owner of the castle, Mrs. Martin, used to say that the million dollar castle is worth it if one person comes to Christ. We kind of picked that up and even if we're giving these things away on street corners if somebody comes to Christ we're thrilled.
"The new one (River-lations) is the third one for us in the trilogy and when I think of everything we've ever done it all kind of came together for us musically, with the film–we're real pleased. It's probably our best quality one yet so we're excited about that, we kind of pray over them and have fun!"
The first inspirational DVD the Mondores produced was Proclaim His Praise in the Islands and the second was titled Heaven and Nature Sing. "Exactly the same format," said Patty. "We don't have any chipmunk antics on the first two!" She said they did have a chipmunk song on one of the earlier DVDs, the one which made Hoover the Chipmunk famous. Hoover can be seen getting into mischief in several interludes between songs on the River-lations and he provides great comic relief. Patty joked that some people are more interested in talking to her about Hoover than her songs or DVDs.
Patty has also authored several books and she told us she writes a lot and, "Those are the ones which just happened to get published."
A trailer of the DVD was on YouTube before the DVD release and Patty and Robert received a lot of kind remarks on it. Patty told us her favorite scenes included Attack of the Killer Chipmunk (which is quite humorous) and the ending with the moon and the scriptures fading into it. "I loved that" she said.
Future plans include possible screenings of the new River-lations DVD at churches, even as part of a summer movie night. This is one DVD which many of our Dove readers would sure enjoy. If you enjoy beautiful scenes of nature and great music, pick up a copy and relax for a bit.
---
Read Dove's Review of "River-lations"