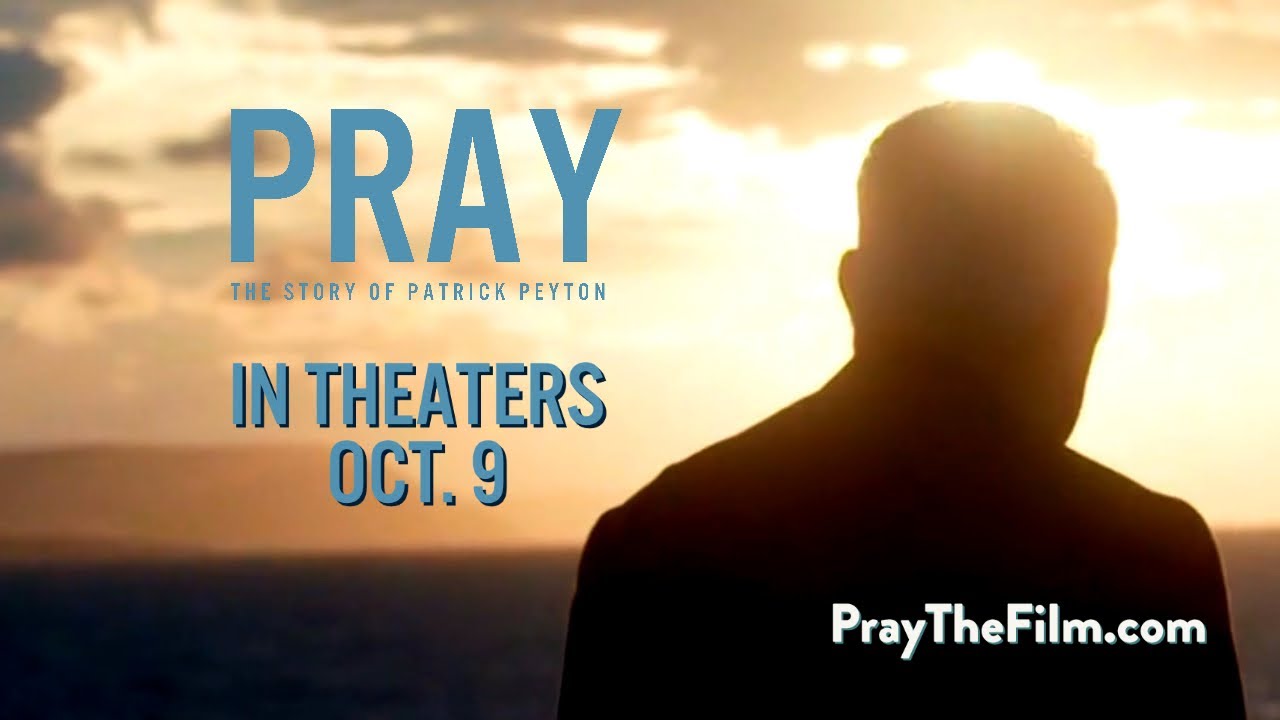 By Jacob Sahms
"The family that prays together stays together."
While I'd heard this phrase hundreds of times growing up in the church, I never knew its origins until watching Pray: The Story of Patrick Peyton. Father Patrick Peyton, an immigrant from Ireland, gave his life over to the priesthood after a scary teenage battle with tuberculosis, much like Martin Luther gave his life to Christ in the middle of a vicious storm. Peyton, who arrived in 1928, became a force for good in regards to prayer, the family, and the church's use of mass communication.
In the film, audiences hear from Peyton directly thanks to the archives of his radio show, Family Theater, that ran on the Mutual Broadcasting System from 1947 to 1957. They'll also hear from families who were influenced by Peyton, and those who learned from him, as well as consider the cultural implications of Peyton's work. Like Mister (Fred) Rogers who recognized that television was the medium that popular culture was gravitating toward, Peyton realized radio was the way to connect with more people to share his message of prayer, Marian devotion, and the power of Jesus Christ in their lives. And along the way, consider the weight of this list, he drew James Stewart, Gregory Peck, Irene Dunne, Robert Mitchum, Henry Fonda, Bob Hope, Lucille Ball, Shirley Temple, Natalie Wood, Charlton Heston, Bing Crosby, Jack Benny, Gene Kelly, and William Shatner to participate in the show. (Peyton also tried to use cinema to make a film about the life of Christ but it failed to materialize the way he hoped it would.)
This adaptability to use the tools available to him makes Peyton revolutionary, but his theological clarity also stands out as the film highlights. Peyton knew prayer could save your life, that it could save your marriage, that it could draw you into an eternal relationship with the Almighty Creator God of the universe. He saw prayer as a vital moment to moment part of his life, and he shared it with others who watched the miraculous impact it had in their own lives. The examples told by people, or their immediate family, leaves the audience with chills as the stories are told.
Peyton's faith was personal, and intimate, but it was also international and all-encompassing. He was willing to go wherever he could to share the message of God's love and the power of prayer, away from the comforts of his home and risking it all. He saw the world as his parish, and he wanted to go everywhere to make sure that everyone knew how much they were loved by God.
Looking at Peyton's life reveals a story of faithfulness that is awe-inspiring and powerful. In theaters October 9, this is a testimony to the difference one person can make, and the importance of praying as individuals for ourselves and others, and together as a family.