By: Suzy Sammons
Harveywood is now a thing, but it isn't new. It's as big and old as the global drug trade. Forever we can use the name as a reference for something so ingrained and evil, but grotesquely protected by the very people who were charged with protecting the victims. And still we hear industry leaders make attempts at piety. Men who "wished they'd done something." Tom Hanks thinks the days of sexual misconduct in Hollywood are close to over. "Sexual Misconduct"? That sounds like something we'd hear at a high school teacher conference. Thanks Tom, we love you, but we'll wait to hear from the women. Jeffery Katzenberg was shocked. I struggle with this naïveté. Let's shift our understanding of power.
We always choose who has the power. As a culture that gobbles up Harvey's films, we can each own our role and how we decide to affect change. Today's media and entertainment is completely on-demand, in the hands of each individual consumer. So if we hold the power, how will we mobilize and respond? We can't blame the feed.
We can't blame this new awareness of Hollywood's lechery on today's technology or ever-increasing moral depravity slamming into our living rooms without permission. Harvey didn't grow up with YouTube. But we can recognize the influence and we can stand in the gap. We can recognize the influence of our choices in both directions. Each choice influences the studios as well as our own lives and those of our children and community. It's all connected. We are the power conduits. The next generation needs us to be of high integrity so they have a strong, positive and influential path to follow.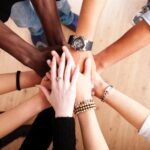 This is the very core of Dove's purpose and the core behind every new initiative we're building. We intend to be in the middle of the conversation and advocate for goodness. We won't be bullied into legalism or complacency. Jesus faced both and we will follow his example. We will speak with love, wisdom and honesty to our children as they engage in their favorite shows. Join Dove as we celebrate beauty and embrace the brokenness as we all search for life's answers through the stories we tell. It's in these stories that we are a blessing to others and we know that beautiful, aspirational stories of high-integrity have a positive influence on culture. Because clearly the inverse is true.
Let's create a power shift.