Chadders Stowaway Adventure
Theatrical Release:
June 15, 1991
DVD Release:
June 15, 1991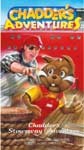 Synopsis
Get ready for five fun, exciting video visits with "Chadder" – a cuddly chipmunk stowaway aboard The Big Red Boat! Your Kids will join Chadder and together meet a "Pirate"…Visit the Captain's table…shiver out ferocious storm… and discover God's loves them!
Shot on location in the exotic Bahamas, here's fast paced entertainment your kids will love during daily visits to Chadder's Bible Story Cinema! And the Bible Story Cinema Leaders Guide will help you drive home daily lessson themes with age appropriate questions.