An Ordinary Hero
DVD Release:
September 3, 2013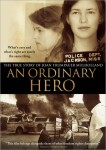 Synopsis
The National Civil Rights Museum declared, "This film belongs alongside those of other freedom rights champions." Experience the incredible true story of Joan Trumpauer Mulholland's courage to help change the world. As a little girl growing up in the South, Joan witnessed the ugly realities of segregation and racism first hand and vowed to one day do something about it. By the time she was 19 years old, Joan had already participated in over three dozen sit-ins and protest when was put on death row in Mississippi's notorious Parchman Penitentiary after joining the Freedom Rides… but that was just the beginning of an incredible true story that has captivated millions around the world. Directed by award-winning filmmaker, Loki Mulholland, An Ordinary Hero is an empowering tribute to the human spirit that is sure to inspire people of all ages to do what is right even when it isn't easy.
Dove Review
This remarkable DVD chronicles the amazing story of Joan Trumpauer Mulholland. This seemingly ordinary woman stood with blacks during the Civil Rights movement and wound up in jail for her stand, although she had not done anything wrong other than treat blacks as equals, but that was enough during those days. Her stand eventually brought Joan to Parchman, Mississippi Prison.
Along with others, Joan took freedom rides on a bus, making a declaration of their belief in equal rights for all. This was unheard of in the south during those early days of the Civil Rights movement. Joan herself is interviewed in this film as well as others who lived during this time. Rev. Reginald Green remembers not being able to sit in a restaurant. The viewer learns Joan went to "Duke," an integrated college, and eventually became the first white woman to attend Tougaloo, a previously all black college. We also learn that bullets hit the campus a few times.
Featured in the DVD are writers Eric Etheridge, author of "Breach of Peace", who talks about buses being attacked during the freedom rides. Also featured is Michael J. O'Brien, author of "We Shall Not Be Moved", who speaks of the bus demonstrations and freedom rides as well as sharing biographical information about Joan.
We are pleased to award this inspiring DVD our Dove "Family-Approved" Seal for ages twelve plus. This educational DVD is also eye opening and will encourage the viewer to be thankful for what progress has been made in the fight for equality, and the history that is shared shows what a terrible price has been paid. But, as Joan herself says, it made "me want to do more."
Info
Company:
Bridgestone Multimedia Group
Industry Rating:
Not Rated
Reviewer:
Edwin L. Carpenter