Amazing Bible Series
DVD Release:
January 17, 2011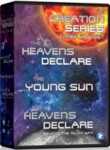 Synopsis
Here is a box collection of the Amazing Bible series. A captivating way to teach children about the world's best selling book, the Bible. Join Doc Dickory, Revver, and Dewey Decimole as they explore the Bible and learn about it's authors, history, books, and stories and why they are all so important. They'll also sing along to upbeat, catchy songs and learn that the Book of books…"Is more than ink and paper, It's more than something to read; It's a letter of love from up above,… Special Delivery!" This series will appeals to children ages 2-10 and helps nuture a love and understanding of the Bible's ever-lasting truths. Children will delight in the exciting adventures of Doc Dickory, Rikki, Revver, and their friends as they discover the Bible and that God is a God of wonders and miracles!
Dove Review
This creation series is an awesome idea! The first program, "The Heavens Declare", kicks off the series with visually stunning images. With scriptures boldly flashing on the screen, this documentary reveals the wonderful creations of the universe, and the fact that the heavens declare the glory of God. From John chapter one the film begins by remindder for the most part but can be enjoyed by the whole family. It has a fast pace to keep children interested. They will be wondering what is next. One of the best parts of this film is at the end. A song will take you on a ride to see the miracles of today such as butterflies, rainbows, and even yourself as a miracle worthy to be loved. We are proud to award this complete set our Dove "Family-Approved" Seal for all ages. "Amazing" is the word for this set as it is for God's grace.
Info
Company:
Bridgestone Multimedia Group
Industry Rating:
Not Rated
Reviewer:
Edwin L. Carpenter