Hoop Dogz 4 DVD Set
DVD Release:
September 1, 2012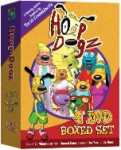 Synopsis
"HoopDogz" is the Bible-based series of videos from Jim Jinkins and David Campbell, creators of such popular shows as "Doug;" "PBandJ Otter;" "Stanley;" and "JoJo's Circus." The show is designed to help parents teach their kids God's truths through laughter, music and great storytelling! The Hoop Dogz learn how important lessons about 4 of the 10 commandments that pertain to their lives in today's world.
Dove Review
This wonderful four-DVD-set features four of the Ten Commandments.
Hoop Dogz are a fun faithful group that teach charming and valuable lessons that kids can relate to when learning about the Ten Commandments. In this episode the topic is the 1st Commandment, which is there is only one God and we should put him first. The Hoop Dogz show how to relate this rule in everyday situations that kids can associate in their own lives.
This animated show is very entertaining while teaching the wonderful commandments that were given to us by God. This is a wonderful faith-based DVD that can be enjoyed by the young and old alike.
The next episode deals with the 2nd Commandment. Sometimes in this day and age we forget what the Lord told Moses about looking at others things or people as idols instead of placing only God as the one we worship and idolize. This is a cute and charming show which everyone will enjoy. The story along with the toe tapping music will teach everyone about the valuable lessons taught in this DVD about the second commandment.
In the next episode of the lovable Hoop Dogz, the topic is the 7th Commandment that God has given us, "Thou shall not commit adultery." The creators of this animated series do a wonderful job to relate this in a way that is not sexual but as keeping a promise that is easy for children to understand. The Dogz are always an educating group that teaches your children about the Ten Commandments. Bring each commandment to them in a way that they will understand.
I think that for a teaching tool, this DVD has all the right stuff. The cartoon is made by renowned animators and producers who have made other cartoons that your kids have loved. So you know your kids will sit down and watch it. The lesson of the last episode focuses on the eighth Commandment, "Thou shalt not steal." But they put it in such a gentile way that your child will be sure to understand. All in all, "HoopDogz" has all the right stuff to be a successful kids learning tool and a parents teaching tool. You can enjoy these wonderful episodes and get your child started on knowing all of the Ten Commandments in a fun and entertaining way. We are pleased to award this DVD set our Dove Seal for all ages.
Info
Company:
Bridgestone Multimedia Group
Industry Rating:
Not Rated