Juniors Giants 3 DVD Set
DVD Release:
October 23, 2013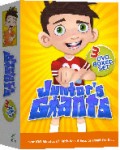 Synopsis
Junior Anderson is a smart elementary school student with wit, imagination and a comically whimsical Christian family. Children will laugh and learn as Junior wages battle different giants in his life. Join Junior, his family and friends in a hilarious journey through their not-so-ordinary daily lives in this 3-DVD set.
Dove Review
This is a great three-disc-set with episodes dealing with anger, envy, and telling the truth.
Here is a unique animated story for the entire family. Follow Junior on his quest to fight the giants in his life. These are not ordinary giants like we picture them but these are the giants of Juniors life. The issues that he has to come to terms with are his imaginary giants. In the first episode he fights the giant named Tude who portrays Junior's anger issues that are out of control. With the help of his family and friends plus some scripture from the Bible, Junior learns to overcome this Giant. This is a great educational and entertaining show that is not only for the children in the family but for everyone who may have their own personal giants to deal with.
In the next episode in the set Junior and his family have envy issues. Junior wants to improve his robots' abilities and to do that he needs a new micro chip. He learns to fight the Giant who has everything he thinks he needs. But Junior finds out that sometimes when you want something so bad and you get it, it may not always be what you expected. With the help of some scripture from the Bible, Junior learns to overcome this Giant.
In the final episode of Junior's Giants in this set Junior lies to his mother and father about his tardiness to dinner. While trying to uncover the truth, his mother takes him around the country to talk with different groups so they can unravel the twisted lies he has told.
As with the other episodes, there are some political undertones and in this case the blending of a couple of government agencies, specifically the FDA and DFCS. There is also a totally unrelated potential cover-up by one of the agencies concerning prescription pain killers in cereal boxes. However, the lessons that the truth will set you free and friendship is not to be abused are clear in this fast-paced flick. Dove is pleased to award this DVD set our "Family-Approved" Seal for all ages.
Info
Company:
Bridgestone Multimedia Group
Industry Rating:
Not Rated