Broken Chains
DVD Release:
October 8, 2013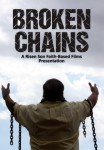 Synopsis
When Benny Trevors was eight years old, he watched his father get run down by a drunk driver in their church parking lot. From that moment on, his life was changed for the worse. He has spent the last thirty years in and out of prison for safe cracking and robbing jewelry stores. His mother, Mary Trevors, has never given up on her son and she has never stopped praying for him. "Broken Chains" deals with anger, even hatred, toward a God that loves each of us unconditionally. While "Broken Chains" shows the Love and Grace of our Lord and Savior, it also reveals man's dark side when a woman has to live with stalking and domestic abuse.
Dove Review
This is a compelling story which powerfully demonstrates God's love and his power to change lives and heal hurting hearts.
Benny Trevors watched his dad die after being hit by a drunk driver in the church parking lot when Benny was only eight years old. He has never gotten over that. Now, just out of prison, he finds himself in the position of hero when he rescues a woman from her ex-husband as he publicly confronts her and slaps her. The woman, Heather, takes a liking to Benny and he is attracted to her too. Soon Benny is being encouraged to go to church again by his mother. He also meets Pastor John, the man that took over his dad's former church. He learns something extraordinary about the event of his father's death.
This is a story about forgiveness and healing, sacrifice and the richness of God's love. We are pleased to award this movie our Dove "Family-Approved" Seal for ages twelve plus. This movie is about the possibility of change!
Info
Industry Rating:
Not Rated
Reviewer:
Edwin L. Carpenter