The GiggleBellies: Sweet Songs and Lullabies
DVD Release:
August 6, 2013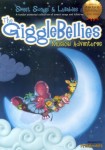 Synopsis
The creators of the multi-award winning DVD series "The GiggleBellies Musical Adventures" are excited to bring you this tender collection of animated sweet songs and lullabies. Carefully paced from beginning to end, this DVD was created to engage and soothe for quiet, nap and sleepy times. Enjoy unique adaptations to beloved traditional lullabies complimented with original sweet GiggleBellie songs. We hope your family enjoys this special animated collection as much as we did creating them.
Dove Review
"The GiggleBellies" brings music alive for preschoolers. With wonderful animation to accompany the calming songs like "Imagine a Cloud" and "Unicorns and Fairies" plus hits like "Twinkle, Twinkle Little Star" and Rock a Bye Baby", your little ones will enjoy this relaxing DVD. It also contains downloads for your youngsters that has coloring pages, lyric sheets so that they may learn the words to sing along. This DVD will have everyone in the family ready to lay back and enjoy.
We are proud to award "The GiggleBellies: Sweet Songs and Lullabies" the Dove "Family-Approved" Seal for all ages.
Info
Company:
3D Magic Factory, LLC
Industry Rating:
Not Rated