Family Night Films #2
DVD Release:
December 17, 2013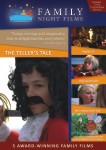 Synopsis
You Are Beautiful
Young girls, ages 8 to 11, express their thoughts on beauty and mothers, and send an inspiring message to all women about what truly makes us beautiful.
Lucy
A young autistic girl in pre-WWII France, seems to be unreachable, yet she is more aware of the world around her than anyone realizes.
The Letter Writer
Sam writes a warm and compassionate letter in a cherished ritual of a true master craftsman and shows us the beauty of selfless service and love.
I Love You, Bernie Summersby
Agnes Summbersby decides to surprise her husband on their anniversary, with disastrous results.
Butterflies
Unable to participate in Show and Tell out of fear, a shy young boy tries to remove the butterflies trapped in his stomach.
Dove Review
Family Night Films present five short stories for the family. Each film tells a different story with conversation topics for the your family. These short tales have a question that can be discussed at the end. There are many lessons taught in each story, but the important part is bring the family together for a show that will educate and open family discussions.
There is an intellectual side of this DVD that brings to light great family communication about the power of one's imagination, how actions affect others, respect and responsibility. A family night of film that will encourage everyone to participate. The Dove "Family-Approved" Seal for all ages is awarded to this DVD.