Family Night Films #1
DVD Release:
December 17, 2013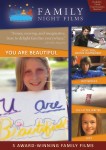 Synopsis
Toward a Theory of the Evolution of the Turkey
A chronicle of the discovery of Gallina webbus, a new species of turkey whose beak has evolved into something that surprisingly looks like a bass clarinet.
The Teller's Tale
A young boy in 1910 Connecticut embarks on a quest to discover the key to telling a great story and win the Rabbit's Foot, the greatest of all treasures.
The Great Kiss-Off
A kindly janitor must deal with an unruly group of middle school girls determined to leave their mark.
Swing It
When Turner Fibbs is asked to dance with his grandmother at her weekly swing dancing class, an adventure from the past begins to sweep him away.
One Lucky Boy
A lonely home life does not stop young Simon from sharing and finding joy in the little things in life, including a small Christmas tree that nobody wants.
Dove Review
Family Night Films present five short stories that the entire family can watch and open up discussions. This collection of movies last only 52 minutes and end each story with a set of questions that can be a topic of discussion. Each one directs the attention to a different subject matter that may be connected to everyday lives. In less than one hour, your family with the help of this DVD can discuss how we look at others whether it is our beauty, age or being different. This is a wonderful tool for the family to connect and encourage communication skills.
We award this DVD the Dove "Family-Approved" Seal for all ages.