Dear Dumb Diary
Theatrical Release:
September 6, 2013
DVD Release:
September 10, 2013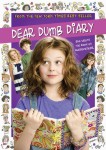 Synopsis
Dear Everyone,
So they made a movie about me and my
friends at Mackerel Middle School but
they accidentally included footage of
Angeline and her hideously blonde hair
which will probably make everyone sick
and I feel like I should apologize for
that. Fortunately, they included shots
of Hudson Rivers, who is the Eighth
Cutest Boy in the School and the future
Mr. Jamie Kelly. Viewers that have had
it with Angeline can focus on my awesome
singing and dance numbers and join me in
congratulating me on my awesomeness,
which is nicely documented in this fi lm.
(We artistic-types always refer to
movies as films.)
Now, by the power vested in me, I
promise that everything in this diary is
true, or at least as true as it needs to be.
Jamie Kelly
Dove Review
This movie makes the point that kids can make some bad decisions but then learn from their mistakes. Young Emily Alyn Lind turns in a terrific performance as Jamie Kelly, the self-proclaimed "artist/writer" who pens a diary about life in middle school. Jamie has a crush on a boy named Hudson Rivers, and has to deal with the prettiest girl in school, Angeline. Also, her best friend Isabella connives and uses a charity fund raiser to help meet one of her own needs. Yet Jamie soon finds that there are more to people than sometimes meets the eye and she helps Isabella realize the error of her ways. In addition, Jamie raises funds to help make sure her favorite class, Art, is kept in the school budget.
"Dear Dumb Diary" is awarded our Dove Seal for all ages. Jamie is funny and bright and kids everywhere, especially girls, will enjoy her adventures in middle school.
Content Description
Other:
A girl throws up on a boy but it is not overly graphic; several instances of dog flatulence; a kid drools; a girl has a panic attack when a boy she likes talks to her; a girl comments that she doesn't want a clothing donation of "giant bras"; "puke" and "fart" comments; a girl uses charity money for optometry to buy her own contacts but later on is sorry and makes up for it.
Info
Company:
ARC Entertainment
Reviewer:
Edwin L. Carpenter