A Remnant Surprise (Illustrated)
Theatrical Release:
December 13, 2011
Book Release:
December 13, 2011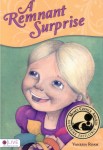 Synopsis
Great-Grandma decides to make comforters for each of her thirty-five grandchildren and great-grandchildren. Great-grandchildren, Gretchen and Walter, help. Great-Grandma gives Gretchen a job which leads to Mama creating a very special surprise to give back to Great-Grandma. A touching and heartfelt fable, A Remnant Surprise shows that the sweetest gifts can come from the most unlikely sources.
Dove Review
This is a charming story book about the love of a grandmother, who is also a great grandmother. She decides to give each one of her grandchildren and great grandchildren a hug, which is a very special gift. This is a wonderful story that everyone will enjoy.
What is so amazing is that my mom makes quilts and she also is a great grandmother. Everyone thinks it is a fantastic gift when they receive one of grandma's blankets. So this story is one that is close to my heart and will become close to everyone that can associate with the feelings that this story brings. We are proud to award this book, "A Remnant Surprise", the Dove "Family-Approved" Seal for all ages.
Info
Company:
Tate Publishing & Enterprises
Industry Rating:
Juvenile