Super Simple Songs – Video Collection – Vol 1
DVD Release:
August 1, 2013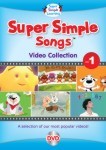 Synopsis
Super Simple Learning produces an award-winning collection of kids' songs, videos, books, and apps created for children with developing language skills (children under five, young English as a foreign or second language learners, and special needs students). With over 1 billion online video views, teachers, parents, and children agree that learning has never been more fun! The newly released DVD, "Super Simple Songs – Video Collection – Vol. 1", is a collection of Super Simple Learning's most popular videos, including classics and original favorites like, "Twinkle Twinkle Little Star," "Bingo," and "The Alphabet Chant." With approximately 33 minutes of engaging and entertaining videos, the DVD introduces simple language related to counting, seasons, family members, opposites, the alphabet, and more. The videos are fun, sweet, and simple — perfect for a small child's attention span!
Dove Review
Remember all those cute songs you sang when you or your children were young. Well, here is a collection of those simple little tunes that we all enjoy-songs such as 'The Alphabet Chant", "Days of the Week" or the wonderful nursery rhyme of "The Eensey Weensey Wider". They are all here along with "Twinkle Twinkle Little Star" and more. This take-anywhere DVD is entertaining while you sing along to the little melodies that are displayed in charming videos for each one.
The Dove "Family-Approved" Seal for all ages is awarded to "Super Simple Songs – Video Collection – Vol 1."