Baggage Claim
Theatrical Release:
September 27, 2013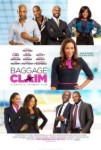 Synopsis
Determined to get engaged before her youngest sister's wedding, flight attendant Montana Moore (Paula Patton) finds herself with only 30 days to find Mr. Right. Using her airline connections to "accidentally" meet up with eligible ex-boyfriends and scour for potential candidates, she racks up more than 30,000 miles and countless comedic encounters, all the while searching for the perfect guy.
Dove Review
"Baggage Claim" is a light-hearted comedy about a woman who tries to find the right man and has thirty days before her younger sister gets married to do so. As she and her friends go back through her past hooking her up with prior men in her life, she realizes that the person she is looking for was right in front of her all the time.
There are several message of value here such as the difference between passionate adventures and real love as well as the phrase "the magic isn't in getting married, it's in staying married". Unfortunately due to frequent sexual innuendo and the multiple sexual situations shown onscreen, we cannot consider this a film for the family.
Content Description
Nudity:
Extreme cleavage multiple times; man/woman undress together prior to having sex; woman undresses down to underwear.
Info
Company:
Fox Searchlight Pictures