Beyond Limits
DVD Release:
August 23, 2011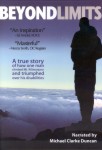 Synopsis
At 19,340 feet, Mount Kilimanjaro in Tanzania, Africa is the tallest free-standing mountain in the world and a daunting climb for any person to attempt. Born with Cerebral Palsy, Bonner Paddock, not a mountain climber by his own admission and with only a few months of training under his belt, disregards his Doctor's advice in the hopes of defying his condition and raising money for charity at the same time. Despite a weak lower body, spastic leg muscles, zero sense of balance and lack of climbing experience, Bonner tackles the impossible feat of climbing Mount Kilimanjaro head on.
Bonner soon learns there is no preparation for what he finds on the mountain. Over 8 days, 64 miles, sheer cliffs, sub-zero temperatures, and ever-thinning oxygen, Bonner and his team are truly tested beyond their own physical and mental limits in this stirring documentary. Academy Award Nominee Michael Clarke Duncan narrates.
Dove Review
This is a story of mastering a dream! Bonner Paddock was born with his umbilical cord wrapped around his neck which cut off his oxygen and wound up with Cerebral Palsy. But he hasn't allowed it to stop him from pursuing lofty goals. When a friend's young son, Jake, died of Cerebral Palsy, Bonner decided to climb to the summit of Mount Kilimanjaro in order to raise funds and awareness to help children with disabilities. This documentary, featuring the terrific narration of Michael Clarke Duncan, reveals the plan and the trip to Tanzania and the six day journey to reach the 19,340-foot-summit.
The movie captures all the plans, goals, setbacks, and feelings of Bonner and his friends as they journey toward the top. We hear Bonner say that he doesn't have anything left in the tank and doesn't see how he can do it. Does he somehow push on and succeed? This amazing story will inspire you. "Beyond Limits" is truly inspiring and has been awarded five Doves from us, our best rating. You will be glad you watched this DVD!
Info
Company:
FilmWorks Entertainment
Industry Rating:
Not Rated
Starring:
Narrated by: Michael Clarke Duncan
Reviewer:
Edwin L. Carpenter