Without Perfect Answers
DVD Release:
October 29, 2013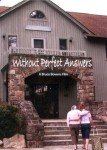 Synopsis
This documentary is the story of two residential schools – orphanages – six thousand miles apart but side by side in finding an alternative to foster care for children. Documentary filmmaker Bruce Bowers and Bowers Media Group, Inc. present Without Perfect Answers, a film that raises compelling questions about foster care in the United States. The Crossnore School, isolated in the remote North Carolina mountains, dates back a century. The Goldstein Youth Village in Jerusalem began with the birth of Israel to serve the children of the Holocaust. Both schools, one Christian, the other Jewish, apply compassion and high expectations to bring hope and success to otherwise desperate children. The schools did not know about one another until recent times and both go against the widely accepted view that residential education, what once was called an orphanage, is discredited and harmful.
Participants present compelling arguments that residential education is far more likely to redeem and encourage a troubled child than the chaotic U.S. foster care system ever could.
And then there is the story of Phyllis Crain. Dr. Crain was leading The Crossnore School in setting new standards in residential care when cancer attacked. Phyllis's response runs parallel to her continuing determination to save neglected, abused and abandoned children.
Without Perfect Answers introduces the viewer to extraordinary, courageous and compassionate adults and children you will want to hug.
Dove Review
This DVD documentary features an enlightening comparison of two different schools in two different countries. It is an intellectual look at the foster care system, orphanages, and educational options to help the children that are in these institutions. There are many things that need to be improved to help these children that have been abused and neglected. Sometimes these children do not find a better place or are not helped by the foster care system. This is an eye-opening experience as the viewer sees the wonderful things that will improve these young people's lives.
Here is an educational and enlightening documentary regarding the children that are "thrown away" and how they can be lifted up to a better life. Although there are never any "Perfect Answers" to this kind of difficult life, this is an insightful documentary. Due to the serious content in this documentary we award it the Dove "Family-Approved" Seal for 12+.
Info
Company:
Bowers Media Group
Industry Rating:
Not Rated