The Dempsey Sisters
DVD Release:
June 3, 2014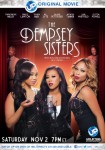 Synopsis
Petite, take-charge, 27-year-old Deena Dempsey (Denyce Lawton) has been working unenthusiastically as a personal assistant for sophisticated, multi-millionaire socialite Olivia Norman (Lynn Whitfield). Recognizing that Deena's heart just isn't in the job, Olivia decides it's time to push the little birdie out of the nest and lets her go. Understandably upset, Deena turns for comfort to her middle sister Sheena (Teairra Mari), an endlessly practical, 25-year old massage therapist, and younger sister Tina (Cymphonique Miller), a free-spirited 22-year old trying to find her way in life. With time on her hands, Deena reevaluates her life and eventually decides to revisit a cherished childhood dream. The Dempsey Sisters performed together as a singing group when they were kids, but disbanded when a record deal never materialized. When their big brother, Thad (Antwon Tanner), a charming, fit 29-year old, brings home his new wife, Ava (TAJ En'Phiniti), who has some surprising talents, and announces plans to focus on music management full-time, the stars seem to align for the sisters – or do they. While their parents Theo (Clifton Powell) and Elizabeth (Valarie Pettiford) want to see their children succeed, not everyone is on board with the reunion plan. It's going to take practice, commitment, money for studio time and savvy marketing to start. But if Theo can talk his way through music label assistant Andre (Dom Santana) to the major exec Taylor Powell (MC Lyte), then maybe the Dempsey family really can all live their dreams.
Dove Review
This is an inspiring movie about going for your dreams. It features the Dempsey sisters, Tina, Deana and Sheena, and how one of them, Deena, is fired because her boss tells her she knows she doesn't like her job and she needs to go after her dream. Her dream is singing and Deena goes forward with help from her sisters. Their brother's wife becomes a singer when one sister realizes she doesn't want to sing but rather take care of publicity.
This film features the theme of putting the pieces of the puzzle together in one's life. We award this movie our Dove "Family-Approved" seal but recommend it for ages 12 and over due to some of the content in the film. This movie just might inspire you to go after your own dreams.
Info
Reviewer:
Edwin L. Carpenter