Guess Whos Coming for Christmas
DVD Release:
December 8, 2013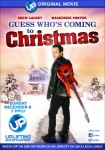 Synopsis
When his high-maintenance girlfriend Chelsea (Olivia Cheng) refuses to cook, jaded rock star Dax (Drew Lachey) is found by New York paparazzi passed out in his car with a frozen holiday turkey in the passenger seat. In order to repair his tarnished image, Dax publicly agrees to grant a fan's "Dear Santa" Christmas wish. To his dismay, his manager Jason (Matt Ward) drops Dax off in Cedar Grove, a small Midwest town, where he's committed to spend a week and perform in a local holiday Christmas concert. At first, Dax is horrified to be stuck in the Reverend Harding (Peter Lacroix) family's home under strict rules and a curfew. But he soon becomes charmed by the Reverend's wife Lynne (Ellie Harvie), teenage son Tim (Evan Bird) and very surprised contest winner and daughter Kelly (MacKenzie Porter), a sassy, unemployed book jacket writer. Dax begins to appreciate what the Hardings have as a family – love, caring and an uplifting holiday spirit. The movie features an original musical duet by Lachey and Porter, entitled "You."
Dove Review
This is a touching story about finding one's self and what Christmas is truly about. A superstar singer, Dax, goes to Nebraska to fulfill a fan's desire and to raise funds for a boy's club. His grandmother has passed away, the only family he had left, but he meets the fan's father, a minister, who helps him. He is forgiven for showing up to church drunk and the female fan's father continues to reach out to Dax.
This movie is recommended for ages twelve plus due to the sophisticated themes including the main character's drinking for a time. This redemptive based movie earns our "Family-Approved" Seal. "Guess Whos Coming for Christmas" offers hope to those who are struggling to let something go.
Info
Writer:
Neil and Tippi Dobrovsky
Industry Rating:
Not Rated
Reviewer:
Edwin L. Carpenter