Baptism is not Enough (DVD/Study Guide)
DVD Release:
November 29, 2013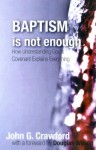 Synopsis
We can no longer afford to underestimate this. What if I told you that one of the most important, if not the most important concepts in all of life is also one that is often misunderstood? Maybe you, like many in the church today, were often taught that the most important thing in your life is your relationship with God. It makes sense, right? The God of the universe created us and we need to have a "good relationship" with him. What does that mean though? What does that look like? Perhaps even more important, how does it affect every area of our lives? These are just a few of the questions that are answered by the biblical understanding of covenant. This is a covenant relationship that is visible in time and space. The church today should spend less time trying to discern the heart and more time discerning the covenant and its implications. Jesus Christ is Lord of all. He intends to manifest his rule over the whole earth in time and in history, and his covenant structure is the key to understanding this. – There is also a companion Study Guide with the DVD.
Dove Review
This is a terrific DVD about having a covenant relationship with God. Author John Crawford makes the point, biblically, that infant baptism is not the main objective, but our covenant relationship with God is. God can see the hearts of men while we can only see the outside. From the beginning God had a redemptive plan in place and was not taken by surprise by man's fall but actually was prepared for it. Crawford emphasizes that man does well when he bases decisions on God's law and conforms to it. This helps His people to conquer and overcome life's obstacles. Along with the DVD is a companion Study Guide.
The thought-provoking DVD is awesome as is the Study Guide. In it, the covenant of God is covered in creation, history, the family, the State, the Church, and also the Covenant Structure for children in the Old Testament and New Testament too.
The study guide looks at the sovereignty of God and what a covenant actually is, this legal bond between two or more which many people do not comprehend. The author writes in a profound and yet easy-to-understand manner which includes many scriptures as the foundation of his teaching. Starting with God's covenant with Abraham, the author moves on to God's covenant with Israel and ultimately with the Gentiles and the entire world. The study guide is intelligently written, thought provoking, inspiring, and should be read by anyone wishing to grow spiritually. It's 146 pages are well worth reading. We are very pleased to award the DVD and study guide our Family Approved Seal for all ages along with five Doves, our highest rating.
Info
Industry Rating:
Not Rated
Reviewer:
Edwin L. Carpenter