The Adventures of the Poodle Posse: Trouble Down Under (Illustrated)
Book Release:
November 13, 2012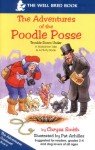 Synopsis
Grab your camera and your calendar and join an ever growing posse of mini poodles, as the adventures continue on Groundhog Day. Will winter stay? Will spring come early? Or will the decision be clouded by some zany poodle antics? Find out in this adventure and check out some fun activities in the back of the book that will make midwinter feel a whole lot warmer.
Dove Review
The posse is a cute collection of poodles owned by Mrs. Flout. In this story they all go on an adventure to Pennsylvania to Groundhog Hill to see for themselves what the groundhog has to say about the weather for this year. The adventure holds a new experience for the group plus a little lesson for one of them.
Reading is always a great way to spend family time and this book is so amazing. It is aimed at readers in grades two to four but the story is fun for everyone in the family, especially those that love the family dogs. This is easy reading and includes a few fun activities at the end of the book for the readers to enjoy. We are proud to award "The Adventures of the Poodle Posse: Trouble Down Under" the Dove "Family-Approved" Seal for all ages.