Angels in Stardust
Theatrical Release:
February 21, 2014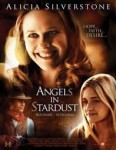 Synopsis
Limited Theatrical Release – ANGELS IN STARDUST, is the story of VALLIE SUE, a 15 year-old girl with an imagination as restless and expansive as the western horizon into which she longs to disappear. She lives in an Oklahoma community of pre-fab homes built on a long abandoned drive-in movie lot called 'Tardust. Surrounded by an odd collection of characters, including a neglectful mother, mysterious Indian and an imaginary (or is he?) cowboy friend, Vallie Sue's search for her identity and place in this strange corner of the universe is kicked into overdrive when she runs afoul of some local bad guys.
Dove Review
This movie is about a teen girl that lives in a trailer park and she must cope with having no father, a mother that sleeps around, and the girl raising her younger brother more than the mother does.
AJ Michalka plays Vallie Sue, the fifteen year old girl, and her one hope is being a writer and she has a caring teacher that wants to help her. Vallie Sue has a vivid imagination and talks to an imaginary cowboy, her only real friend.
Despite some good moments, the movie is loaded with content issues including strong language, several sex scenes and innuendos; and a lot of drinking scenes including underage drinking. Due to these reasons we are unable to award it our Dove "Family-Approved" Seal.
Info
Company:
High Motor Productions
Reviewer:
Edwin L. Carpenter