Little Baby Disciples: Volume 3 – The Lord is My Savior
DVD Release:
December 16, 2013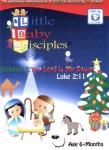 Synopsis
"Little Baby Disciples: Volume 3 – The Lord is My Savor" is a rich, musical way to introduce babies and toddlers to classic Biblical principles through engaging songs, entertaining puppets and informational singing by using the educational principles of interactive and captivating audio and visual stimulations. This third DVD in the series, "The Lord is My Savior," is perfectly timed for Christmas as it introduces Luke 2:11, the birth of Jesus, to your toddlers and creates an opportunity for parents to positively interact with their children while sharing the words and principles of the Bible, together!
Dove Review
Here is volume three of the Little Baby Disciples series. This charming DVD brings Luke 2:11, the Christmas story about the birth of Jesus, to life for young children. The combination of music, puppets, real children and words made from colorful building blocks not only teaches your youngster the Bible verse but also the meanings of the words within the verse. Everyone will enjoy this educational and faith based series aimed for the preschoolers in the family. We are proud to award this DVD with the Dove "Family-Approved" Seal for all ages.
Info
Company:
House Lights Media