Marshall the Miracle Dog (Illustrated)
Book Release:
October 1, 2012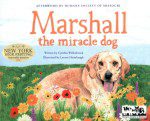 Synopsis
In the story of Marshall the Miracle Dog, readers glean hope. Even though Marshall has been the victim of unfathomable abuse, he is not broken. Found at the home of an animal hoarder, Marshall was rescued and later adopted by author Cyndi Willenbrock.
From the start, readers sympathize with Marshall, as they follow him from discovery to recovery. At first, Marshall is frightened and unsure of the strangers who bring him to safety; however, he learns to trust the kindness of others. Even though he is severely malnourished and loses a leg, he has a spirit that can only be described as miraculous!
Dove Review
"Marshall the Miracle Dog" is a wonderful story that can be read to the entire family. It is a tale of Marshall, a lovable little dog, which overcomes the cruelty of the world to find a nice home. Raised in a terrible situation, he is rescued by the Humane Society, and that changes his life forever.
Every day we hear stories of animals that are rescued from awful conditions and animal neglect. This book helps everyone understand the feelings that these animals may have and the bullying they also endure due to their situation. It brings to life the rescue, recovery and adoptions of these lovable animals. This story may be aimed at older readers but for everyone, especially animal lovers out there, here is a wonderful book for you. We are proud to award Marshall the Miracle Dog" with the Dove "Family- Approved" Seal for all ages.