A Madea Christmas
Theatrical Release:
December 13, 2013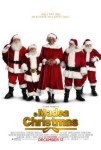 Synopsis
Madea dispenses her unique form of holiday spirit on rural town when she's coaxed into helping a friend pay her daughter a surprise visit in the country for Christmas.
Dove Review
Tyler Perry has brought Madea to life once again, this time it is for Christmas. Madea accompanies Eileen to her daughter Lacey's farm for Christmas. Once they are there Eileen is in for a shock but it will take time for Lacey to tell her mother she is married. So the mixture of people on this farm clash until the truth comes out.
During it all there is a hilarious connection and some serious changes that take place. There is one important comment that more people should take to heart: love is not a color but the feeling of the heart. At times the combination of Tyler Perry and Larry the Cable guy will bring you to tears laughing but unfortunately, due to the rude and sometimes crude content in this film, we cannot approve this movie for family viewing.