A Fathers Son
DVD Release:
March 11, 2014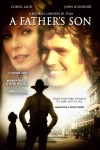 Synopsis
Michael Landon, star of Bonanza and Little House on the Prairie, was adored by millions. But none more than his son, Michael, who knew him as the same loving and caring father people had been watching on television for years. Then came the day that changed his life, and his family's life… forever. Michael Landon Jr. directs an intimate portrayal of divorce and the break-up of the family, and the healing of wounds that only God can provide. Stars John Schneider, Cheryl Ladd, Sarah Lancaster, and Joel Berti.
Dove Review
This is the story of Michael Landon, according to his son, Michael Landon Jr. A very human and not so angelic portrait is revealed in the movie. The pain of Michael Landon's son, Michael Landon Jr., is a big part of the story. The son idolized the father when the son was a boy but when Michael has an affair and leaves his children behind the son deals with the turmoil of the experience. Michael Landon Sr.'s experiences are revealed too, such as when his mother hung up his dirty bed sheets outside the window of the house as he was a bed wetter and how it embarrassed him.
Although Michael's affairs are revealed they are done so to reveal how much pain it caused the children and the movie makes the point that children of divorce suffer a lot. Although there are sophisticated themes in the film it is a movie worth watching and we are awarding it our Dove Seal for ages twelve plus. This one shows that pain can be a hard thing to get past, but that it can be done.
Content Description
Violence:
Fighting on TV show but it is acting; man's wrist is twisted; fighting between boys; home broken into.
Sex:
A main character has affairs and leaves family behind twice; kissing between couples in several scenes.
Violence:
Fighting on TV show but it is acting; man's wrist is twisted; fighting between boys; home broken into.
Drugs:
Underage drinking and driving; a friend of a main character has a marijuana cigarette but is not shown lighting it or smoking it; smoking cigarettes; drinking wine and beer.
Nudity:
Swim wear on both male and females; bikinis; belly shirts; shirtless men; cleavage; a character breaks into a home and finds pornographic magazine but nothing graphic is shown.
Info
Reviewer:
Edwin L. Carpenter