To Make Men Free (Manuscript)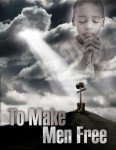 Synopsis
Robeson is a violent, troubled eighteen year-old from a shattered family. He is headed for prison or an early grave. A judge gives him a choice; go to jail or join the military. He chooses the Army and finds himself fighting for his life in the deadly jungles of Viet Nam. Surrounded by death and fear he hears "God calling" and promises that, if God lets him live through the night, he will devote the rest of his life to serving the Lord. Robeson lives and keeps his word. After his Viet Nam service he becomes an ordained minister and returns to the Army as a Chaplain…the Chaplain with the Combat Badge.
Now, nearing sixty, Robeson is retiring after four decades of serving God through ministry as a Chaplain. He and his wife are starting a new chapter in life with their typically confused and vulnerable teen-aged daughter, their isolated, angry daughter-in-law and their young grandson. Tragedy strikes the family like a bolt of lightening. Robeson's faith is shaken. He can no longer hear "God calling." He must fight the darkness, the despair to find his way back. He must save himself in faith so that he can lead the family he loves into the light.
To Make Men Free is a realistic story of love, loss, sacrifice, faith and redemption in modern America.
Dove Review
What a fascinating story this is! It is about a former boxer named Robeson who is hardened after dealing with his drunken father and difficult life situations. He joins the army and serves as a chaplain. Years later his wisdom is needed when his son Terry sees action in the military, his daughter-in-law Barbara seems like a zombie, ignoring Terry's and her son Doc, and he must deal with a daughter who has gone wayward. When tragic news arrives, things get worse and soon Robeson's faith in the God he has trusted is severely tested.
Robeson is an interesting character and I like how he is portrayed as the "glue" that keeps the family together. His devotion to his grandson Doc is to be commended.
To the author: I enjoyed reading this story very much and read it straight through. It kept my attention with its drama and realistic settings and problems of life. It also shows a person who holds onto his faith in God. It features a funny scene I liked in which Robeson's grandson won't eat his breakfast and asks Robeson if Jesus ever played baseball. Robeson replies that he doesn't think so but he knows Jesus did eat his breakfast! This script is Dove approved for ages twelve plus. It has earned five Doves from us, our highest rating.
Info
Company:
Peter J. Gibbons
Industry Rating:
Not Rated
Reviewer:
Edwin L. Carpenter