Humpty Dumpty and the Great Fall (Illustrated Book and Audio CD)
Theatrical Release:
November 1, 2013
Book Release:
November 1, 2013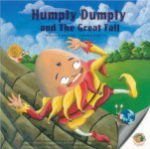 Synopsis
You know the poem… "All the King's horses and all the King's men couldn't put Humpty Dumpty together again." At least that is what you 'THINK' happened. Storyteller and Children's Author Dr. Mike Lockett tells the real story. If you are a Pre-K teacher or Kindergarten Teacher or parent of young children – you MUST have this book. Imagine this… a family oriented predictable story with controlled vocabulary: family names, animal names, color words, direction words (up, down, left, right, forward, backward), humor and family love. It is hard to get better. But it does. The book is beautifully illustrated by Chang Yi-Ru, the illustrator of two more of Dr. Lockett's books. Hidden pictures in the illustrations add to the beauty of the story as vivid colors make pictures seem to pop off the pages.
Dove Review
Here is a charming story book and CD by Dr. Michael Lockett and Chung Yi-Ru, a wonderful Illustrator. This cute story tells what really happened to Humpty Dumpty on the wall that day when he had his great fall. On one side is the English version or flip it over to read the Chinese version of this delightful bilingual storybook which allows your youngsters to follow along. The story is told by using the CD that accompanies this book. Whether they read it themselves or use the CD the story will amuse them. We award this book the Dove "Family-Approved" Seal for all ages.
Info
Company:
Heritage Shoolhouse Press
Starring:
English version audio CD narrated by: Dr. Michael Lockett