Far From Home
Theatrical Release:
February 7, 2014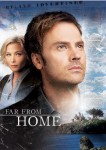 Synopsis
UPtv Network Premiere – Sunday, February 9 at 7pm EST – Barry Watson plays Nicholas Bell, who angrily left his small island town after a terrible fight with the uncle who raised him and owned the local newspaper where Nick began his writing career. After cutting off all ties with his uncle and going out on his own, Bell wrote a wildly successful novel, Broken Windows, which led critics to declare him to be the "voice of his new generation."
After 15 years of failure to come up with a meaningful follow-up novel, Bell settles into teaching undergraduate writing at a small university. When he learns that his uncle has died, Bell returns to his hometown for the funeral, suffering one mishap after another. The local townspeople are glad to see the famous homegrown talent return — at least partially because his uncle left him the family's local paper and key property. Eager to divest himself of the newspaper and return to teaching, Bell finds himself wedged in the middle of a bitter fight over the future of the island — and face to face with the real reason behind what sent him so far from home for so long.
Dove Review
This terrific movie shows what can happen when the people of a town stand together against a powerful enemy. In this case the enemy is a developer who wants to take the town over or, in this case, the island. Nick Bell wrote a successful novel, "Broken Windows", but it has been years since his next book and when people ask him about it, he always tells each person a different story as to the plot. Bell returns to his hometown after his uncle's death and finds that he left him his newspaper, something he claims he doesn't want. Soon he confronts some old issues which need to be resolved before he can move forward.
We are happy to award this movie our Dove "Family-Approved" Seal for ages twelve plus. This one might inspire you to take the next step toward your dream.
Info
Reviewer:
Edwin L. Carpenter