Hang on To Jesus! Adventures! Im Gods Warrior (Illustrated)
Book Release:
September 1, 2014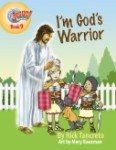 Synopsis
Hang On to Jesus! Adventures bring Bible truths to life for young readers. Children will discover God's character and kingdom through selected passages of Scripture and wondrous journeys with Jesus. Invaluable as part of an educational program, this series also includes teaching tools found on our website: www.LittleSaintsPress.com. Hang On to Jesus! Adventures will help children live out and defend their faith, as well as fall in love with their savior.
Dressed in God's spiritual armor, Ricky and Dee Dee join Jesus' army, where they learn how to battle Satan and his evil army – and win!
Dove Review
Dee and Ricky are on another wonderful adventure with Jesus in book nine of the "Hang on to Jesus Adventures." Jesus comes to the brother and sister to teach them about being warriors against Satan. He tells them how Satan tries to influence them and turn them against Him. Jesus tells the children how to use the armor He has given them to protect and join the army of the Lord.
This illustrated book is a great gift that will be enjoyed by everyone in the family. Filled with a wonderful faithful story along with verses from the Bible to support the story, you can follow Dee and Ricky on their fantastic visits with Jesus as they learn all that He can teach and show them. We are very proud to award "Hang on To Jesus Adventures! I'm Gods Warrior" book with the Dove "Faith-Friendly" Seal for all ages.
Info
Company:
Little Saints Press
Industry Rating:
Juvenile