Lost Faces of the Bible (Episodes 1-4)
DVD Release:
December 17, 2013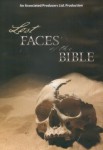 Synopsis
"Lost Faces of the Bible" is a four-part documentary series that blends myth-busting archaeology with dramatic recreations and forensic investigation. Having been granted unprecedented access to four ancient skulls from the Holy Land, each episode seeks to accurately reconstruct a "biblical" face. Travelling across the globe, archaeologists and scholars separate fact from myth, while a team of forensic anthropologists and artist put flesh on bone, using both traditional and stat-of-the-art methods of facial reconstruction.
Dove Review
This is a fascinating documentary series! It features four episodes and deals with the reconstruction of the face of a woman during the time of Samson and Delilah in the feature "Delilah Revealed", "Sacrificial Child" which contains the skull of an infant who, because of some evidence buried with the skull, might have been sacrificed to a heathen god. And, in episode three, titled, "Ancient Warrior", we learn of a male approximately forty five years old, who was buried with a flint weapon, and finally, in episode four, "The Man Who Saw Jesus", we learn of a man whose bones were found near Galilee and was likely a contemporary of Jesus when he walked the earth.
The work of the people involved in this recreating of the faces of these people, based on their skulls, is fascinating as drawings, 3D renderings, even hair and beards in some cases are added to the creations to give us a good idea of what the faces looked like, all based on the construction of the remains of the skulls. Biblical experts too, including a Rabbi, give information on customs of the times and recreations of Biblical stories, such as Samson and Delilah, and Abraham and Isaac, and Jacob and Esau, are staged during the documentary.
We think this educational, informative, and remarkable documentary will keep viewers glued to their TV sets. The anticipation of seeing the faces after all the drawings and computer reconstructions are complete will hold the viewer's interest. We are most pleased to award this DVD documentary five Doves, our best rating, and our "Family Approved" Seal for ages twelve plus, due to the sophisticated themes including the mention of child sacrifices. Parents should consult our content listing and some parents will be fine with their kids under age twelve viewing the documentary. The content listing will help parents make informed choices. This DVD is an intriguing watch!
Info
Company:
Associated Producers LTD
Industry Rating:
Not Rated
Starring:
Hosted by David Berman
Reviewer:
Edwin L. Carpenter