Change of Plans Gods Way
DVD Release:
January 6, 2015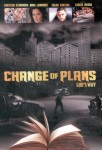 Synopsis
This is a story of three young adults who come from broken homes. Sammy was abandoned by his father when he was a child. His father chose the streets over parenting and eventually losing his life. Sammy is then raised by his sick grandmother, a Christian woman who loves him very much. But Sammy's loyalty is to his two friends. Joe is a loose cannon and the master planner behind every heist and illegal activity they do together. Click, the jester of the three, has a sweet taste for guns and violence. For the three of them, the street quickly becomes their playground. Will Sammy be able to find salvation in Jesus Christ before it's too late?
Dove Review
This movie is about the possibility of a redemptive change, with God authoring that change. Orlando Santos is one of the stars of this movie, playing a pastor who reaches out to Samuel Hernandez (Christian Estremera), as Hernandez is part of a gang but has a pregnant girlfriend who is trying to follow Jesus and go to church. Orlando Santos also directed and wrote the story, and he, along with Estremera and Nora Lawrence as Cindy, are excellent in their respective roles.
The movie is a gritty and realistic film, showing a few drug deals being made, people shot, the use of some language, and death happening on screen right along with a changed life when a decision is made by a character to follow Christ. Due to the content, we are awarding the movie our Faith Based Seal, as it has a strong redemptive message. Viewers will relate to this movie as we see the rebels, the leaders, the followers, and a dear sweet grandmother who refuses to give up on her grandson and who constantly prays for him. This film will stir you up to choose the right path!
Info
Industry Rating:
Not Rated
Reviewer:
Edwin L. Carpenter