The Adventures of Oliver the Clownfish (Illustrated)
Theatrical Release:
May 6, 2008
Book Release:
May 6, 2008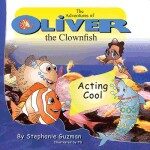 Synopsis
Oliver wants to look cool in front of his friends. He isn't sure if he should be friends with Dolly, a dolphin who looks different. Oliver discovers that he should not choose his friends by what they look like, but by whom they are on the inside.
Dove Review
Oliver and his good friend Paul live in the sea on Whale Watching Lane and they have a new neighbor. Dolly has just moved in and meets the cute little clownfish and puffer fish; school has not started yet and the three have a good time together. But things change when they start school and being friends with Dolly may cause a problem because she is different and that may not be cool.
Dolly does not understand the change in the guys, she is still the same dolphin they played with before but now they act like they don't know her. Oliver starts to feel bad about the way they are treating Dolly, so due to a situation that changes everything he makes his feelings known. This wonderful illustrated storybook encourages your youngster to read along and learn the valuable lesson that just because someone is different on the outside that one should not treat them differently. Everyone will enjoy this charming book and we are proud to award it five doves and our Dove "Family- Approved" Seal for all ages.
Info
Company:
Not So Plain Jane Publishing