El Cid (1961)
Theatrical Release:
March 27, 1995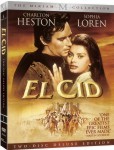 Synopsis
Epic film of the legendary Spanish hero, Rodrigo Diaz ("El Cid" to his followers), who, without compromising his strict sense of honor, succeeds in taking the initiative and driving the Moors from Spain.
Dove Review
The film "El Cid" is an old movie based on the Spanish Christians and the Moors in a battle against religion and kingdoms. Rodrigo, played by Charleston Heston, is the hero of the story who is brought in front of the courts over treason for choosing not to kill the enemy. The film was made back in the 60s and has an excellent cast. The movie however is pretty long and tends to be dragged out in some scenes. The battle scenes shown throughout the film are not gory or bloody, and should be o.k. for viewing by older children. Dove is happy to approve this film and we award the Dove Seal for ages twelve and up.
Info
Company:
Best Film and Video Corp.
Industry Rating:
Not Rated