Dear Viola
Theatrical Release:
March 16, 2014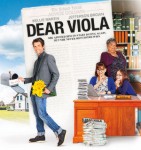 Synopsis
Network Premiere Sunday, March 16 2014 7 PM ET on UP TV – When the writer of a local, obsessively-read, beloved advice column, entitled "Dear Viola," decides to retire and leave the quaint seaside village of Bellport, seasoned editor Earl Bellamy (Neil Crone) is taken aback. While hoping to keep a lid on this news and his paper going, Earl unexpectedly finds a brand -new "Viola" column on his desk.
Earl, his The Bellport Herald staffers Brian (Adamo Ruggiero) and Peggy (Sheila McCarthy), and soon the entire town find Viola's new published tone to be refreshing, no -nonsense, funny and wise. An outpouring of mail for Viola floods in.
Again, Earl leaves the mail on his desk and another column appears. Using the security camera, Earl discovers the mystery columnist to be none other than Katie Miner (Kellie Martin), the shy accountant who has quietly done the books at the paper for years. Katie agrees to continue writing the column as long as her identity can remain secret.
Sifting through a mountain of letters, Katie becomes struck by one from a widower, Russ (Jefferson Brown), who calls himself "Mr. Lost Love." Working as a deep sea fisherman with pal Clay Jackson (Arnold Pinnock), Russ can't seem to move past the loss of his wife five years prior and struggles to find the strength to raise his young daughter, Meredith (Kira Gelineau). Firmly, Katie encourages him to reach out to others, begin dating and start living.
As they correspond through the column and run into each other (hidden by their pen names), Katie starts to fall for Russ. But when Russ decides to take Viola's advice and start dating the knockout new girl in town, Jamie, Katie has to decide if it's really in her best interest to keep her identity and growing feelings secret.
Dove Review
Here is a charming movie the entire family can watch and be entertained by. This is a cute story of a secret writer that takes over for the "Dear Viola" column in a small town paper. When her first letter arrives it is from a man that has lost his wife and has a young daughter and is in need of some advice about improving his life.
Russ and Katie know each other because everyone knows everyone, being from a small town. Little do they know that the town wants them together. "Dear Viola" has its hilarious moments while featuring a serious side to the story. It is truly a family night movie. We are proud to award this network show the Dove "Family-Approved" Seal for all ages.