Divergent
Theatrical Release:
March 21, 2014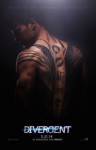 Synopsis
A thrilling action-adventure film set in a world where people are divided into distinct factions based on human virtues. Tris Prior (Shailene Woodley) is warned she is Divergent and will never fit into any one group. When she discovers a conspiracy by a faction leader (Kate Winslet) to destroy all Divergents, Tris must learn to trust in the mysterious Four (Theo James) and together they must find out what makes being Divergent so dangerous before it's too late. Based on the best-selling book series by Veronica Roth
Dove Review
This movie is about different factions including the Erudite (the educators), the Abnegates (compassionate and selfless), the Dauntless (the police-like protectors) not to mention two other groups, Amity (the peaceful) and Candor (the honest). Beatrice is found to be a divergent, the bearer of several of the gifts, not just one. The faction leader, Jeanine (Kate Winslet), is pursuing divergents because anyone who relies on human nature instead of the rules of the government must be destroyed.
Although Shailene Woodley gives a strong performance as Beatrice or Tris Prior in the movie, there are some real concerns as far as this being a film that families would see. There is a scene in which Tris must prove her bravery and when confronted with her parents and brother in a serum induced hallucination, she is told to shoot them. Still, what kind of movie portrays the necessity of being able to kill a family member? On the other hand, she learns she and her mother have a common bond and there is a sacrifice made for her life by a family member.
Tris falls for the Dauntless trainer, Four (Theo James). He helps guide her through the training but soon she is in serious danger and her father and mother both attempt to come to her aid. The movie features the theme of first love and fighting for what one believes in not to mention the importance of not losing one's humanity. The movie was within range of receiving our Dove "Family-Approved" Seal until the last forty minutes which were excessively violent, containing several shootings, bullets in the head, multiple deaths, and blood. Therefore we are prevented from awarding our Dove Seal to the movie.
Info
Company:
Summit Entertainment
Writer:
Evan Daugherty & Vanessa Taylor
Reviewer:
Edwin L. Carpenter