Susies Hope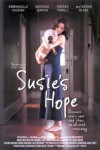 Synopsis
A survivor of a pit bull attack, Donna Lawrence, adopts a bit bull-mix puppy, Susie, which has been beaten, set on fire, and left for dead. Together, they learn to heal, love, and forgive as they lead a historic effort to seek justice and protection for all animals.
Dove Review
In this day and age there are many evil people in the world that are abusive to animals and to others. "Susie's Hope" is a movie based on a true story that brings awareness to the terrible act of animal abuse and what effects it can have on the people that come into contact with that animal.
Donna Lawrence is a woman who loves animals and when she finds a pit bull tied up next door without water and food she tries to help it. But unfortunately this dog has been abused and turns on her, causing her to lose her unborn child and almost her life. Donna does not understand why God let her survive. During her recovery, she and a friend discover a Pit Bull mixed pup in a park that is so abused, at first they think it is dead. But when the small pup licks Donna's hand, she is determined to help it. This very injured puppy and the loving woman experience recoveries together which has a life-changing effect on both of them. This is a very dramatic tale that will warm your heart. It is one of emotional upheaval, forgiveness and awareness of the terrible problems with animal abuse. We award this movie the Dove "Family- Approved" Seal for ages 12+ due to some graphic scenes that may frighten younger children.
Info
Company:
Susie's Hope Movie, LLC
Writer:
Jerry Rees, Dan A.R. Kelly
Producer:
Phil Newsome, Dan A.R. Kelly, Larua Hart McKinny, Ann Holton Guill, John Hart McKinny, Michael Lee Garrett
Industry Rating:
Not Rated
Starring:
Emmanuelle Vaugier, Burgess Jenkins, Andrea Powell, Megan Blake