Christmas Mail
DVD Release:
November 8, 2011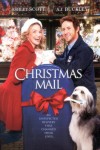 Synopsis
Sparks fly during the holidays when Postman Matt (A.J. Buckley: "CSI: NY") meets mysterious new coworker Kristi (Ashley Scott: "Jericho"). As an official "Santa Writer", Kristi is buried in children's letters to Santa. Her job—to respond to every letter addressed to St. Nick. Their petty boss is suspicious of this new employee and enlists a reluctant Matt to spy on her. The more Matt gets to know Kristi, the more he falls for her.
After learning of Matt's forced betrayal, Kristi is devastated and leaves the post office. Will the magic of the Christmas season be enough to bring them back together? Christmas Mail is an endearing Christmas tale that will appeal to the entire family this holiday season.
Dove Review
Kristi is a charming sweet girl sent by the "big guy" to be a Santa's helper to answer the letters sent to the post office. Matt is a single hard worker there that is raising his niece. The two hit it off as friends but the conniving boss thinks Kristi is there for other reasons and takes advantage of Matt's situation and convinces him to spy on her. But there are other forces that neither of them is aware of that help them get through the misunderstanding.
Christmas is always a great time to get the family together to watch a movie. Here is a wonderful film to add to your collection of holiday must-watch stories. "Christmas Mail" will entertain old and young alike. It is a hilarious love story of family, friends and happiness for the season. We are proud to award this movie the Dove "Family-Approved" Seal for all ages.
Info
Company:
Monarch Home Entertainment