Hercules (2014)
Theatrical Release:
July 25, 2014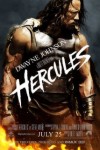 Synopsis
Everyone knows the legend of Hercules and his twelve labors. Our story begins after the labors, and after the legend…
Haunted by a sin from his past, Hercules has become a mercenary. Along with five faithful companions, he travels ancient Greece selling his services for gold and using his legendary reputation to intimidate enemies. But when the benevolent ruler of Thrace and his daughter seek Hercules' help to defeat a savage and terrifying warlord, Hercules finds that in order for good to triumph and justice to prevail… he must again become the hero he once was… he must embrace his own myth… he must be Hercules.
Dove Review
Dwayne "The Rock" Johnson portrays the great Hercules in this action filled movie. Is he a god or is he a legend? This is the part of the story that is intriguing. He and his fellow mercenaries travel the world helping those in need but they do this so that they can get paid in gold and with the hope that they may one day settle down. But when a king sends his lovely daughter to get the great legend, she must convince Hercules and his cohorts that it is for a good cause and not for the money, although there is a secret reason for her actions.
For the entire 99 minutes you are entertained with the legendary story of Hercules, action packed fighting, and some comedy thrown in every once in a while. But unfortunately due to the over the top violence and some language we can not approve this film with our seal.
Content Description
Violence:
Many, many many fighting scenes showing bloody bodies of men, women and children, bodies flying through air, decapitated heads on poles and animals being torn apart; men being hit in their private area; man threatens to kill his grandson;
Violence:
Many, many many fighting scenes showing bloody bodies of men, women and children, bodies flying through air, decapitated heads on poles and animals being torn apart; men being hit in their private area; man threatens to kill his grandson;