The Adventures of the Rhody Bunch (Illustrated)
Book Release:
December 31, 2010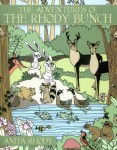 Synopsis
Michelle and her twin brothers, Jonathan and Jason, live in the country with their mom and dad. Michelle is the oldest of the children, so she has to look after her little brothers when they are playing outside. Jonathan and Jason are rowdy little critters and are always getting into one thing or another. Michelle is a quiet girl, bashful and shy. They love to "play house" and "dress up". The three of them get along pretty well together.
This is the story about some of the things the three kids can get into when they put their heads together.
Dove Review
Children have many adventures as they grow up and siblings like Michelle, Jonathon and Jason are no different. Their imagination when playing together comes to life in all sorts of fun ways. This charming storybook captures their adventures of camping out, exploring a cave, talking to the animals and even getting ready as a family for a vacation. It is a fantastic illustrated storybook that will entertain the family.
I can relate to this book as I am the oldest in my family and have twin brothers just like Michelle. It is a book that is lots of fun to read. The Dove "Family-Approved" Seal for all ages is awarded to "The Adventures of the Rhody Bunch" book.