Hang on to Jesus! Adventures: Gods Team (Illustrated)
Book Release:
August 5, 2014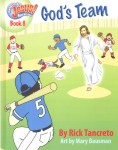 Synopsis
Hang On to Jesus! Adventures bring Bible truths to life for young readers. Children will discover God's character and kingdom through selected passages of Scripture and wondrous journeys with Jesus. Invaluable as part of an educational program, this series also includes teaching tools found on their website: www.LittleSaintsPress.com. Hang On to Jesus! Adventures will help children live out and defend their faith, as well as fall in love with their savior.
When Ricky and Dee Dee set sail for distant shores in their almost-a-boat float, Jesus helps them discover how to be a really good team player – on God's team.
Dove Review
Hang On to Jesus! Adventures are always fun to read when you join Dee Dee and her brother Ricky as they visit with Jesus. He comes to them to teach the charming twosome about living out their Christian faith and to help them understand what being a part of God's family means. In this story book he tells them about the Holy Spirit being everywhere and about being part of God's church.
This book, along with the many others in the series, will help your youngsters understand God's plan for us. It also shows how love is an important part of our faith. These books also educate children with scripture, new words and focuses on how a relationship with Jesus is wonderful in everyone's life, young and old alike. We are proud to award this book in this series the Dove "Faith Friendly" Seal for all ages.
Info
Company:
Little Saints Press
Industry Rating:
Juvenile